Perle Systems Case Study
A Gaming Innovation Group Data Center uses Perle Media Converters for Fiber to 10 GbE Copper Conversion

The iGaming Industry is rapidly growing in the gaming sector. It is forecast to hit $59.79 billion dollars by 2020*. This puts online gaming operators under immense pressure to offer the most compelling user experience in this fiercely competitive market.
In 2015 Gaming Innovation Group (GIG) developed iGaming Cloud (iGC). This client management platform offers iGaming operators a full spectrum of services such as payment processing, support services, game management systems, player profiles, real-time data and much more.
Its rapid growth led GIG to commission the build of a colocation data center in Malta for the iGC platform. Game developers can rent space and use the platform to build casino and gaming experiences in a flexible, robust and scalable environment. The network in the data center runs 10-Gigabit Ethernet (10 GbE) over CAT6a throughout.
Emanuele Lupo, Network Engineer for iGC, explains, "We receive IP Services over single mode fiber from our ISP to the data center. In addition, we have equipment using mulitmode fiber services. We needed a solution that could convert both single mode and multimode fiber to copper"
To bridge this connectivity gap between the fiber and the 10GBase-T copper infrastructure, iGC uses Perle 10G Managed Media Converters housed in a MCR1900 Modular Chassis System.
Lupo comments, "The Perle Media Converters allow us to connect a combination of single mode and multimode equipment to 10 GbE copper. We like the flexibility of having different modules in one Chassis."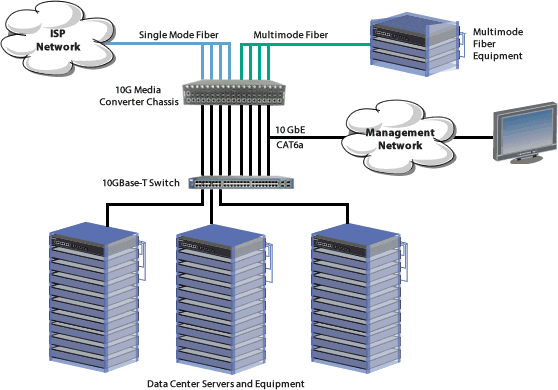 Perle Media Converters enable seamless and reliable Fiber to Copper conversion at iGC's Malta data center.
About Gaming Innovation Group: https://www.gig.com
Gaming Innovation Group is a rapidly growing technology business. The Group offers cutting-edge Cloud based services through iGaming Cloud and Performance Marketing through its B2B products. GIG owns and operates 7 B2C gambling products, offering games from the best-of-breed suppliers across the online sports betting and casino industry.
* Market value of online gaming worldwide 2009-2020. Statistica. Web. 11th January 2018.