Perle Systems Case Study
EControl-Glas use Perle Device Servers to remotely access and update electronically controlled window panes
Greater functionality and flexibility, coupled with reduced truck rolls, saves time and money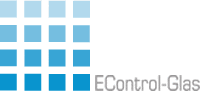 EControl-Glas is a leading manufacturer and innovator of electrochromatic smart-glass. Their electronically tintable glass is commonly used to clad office buildings and add skylights, however single panes of glass can be increasingly found in residential neighbourhoods. The glass reacts to sunlight exposure and adjusts its hue accordingly but also contains "smart" elements to control various settings.
Installation of smart-glass replaces energy-inefficient conventional glazing. In addition, several studies indicate that workers with windows and natural sunlight are significantly happier and more productive.
Each ECONTROL® pane has its own control unit (SCU-H) located in a control case or cabinet DIN rail. Then, several SCU-H are connected to one Group Control Unit (GCU) that has a user interface to define the state of tinting. Each GCU can control up to 200 SCU-H via a local RS485 bus.
The control units require regular software updates, fault searches, parameter updates and so on. Previously, an Engineer from E-Control Glas needed to go on-site to install these updates as there was no remote access functionality available.
Udo Eichel, Head of Technology at E-Control-Glas identified that servicing their customer installations in this fashion was extremely time consuming and expensive. He comments, "Some of our installations consist of more than 250 glass panes. It became obvious that we needed to be able to service future installations remotely."
To solve the problem, Perle IOLAN Device Servers are now connected to the GCUs via a data cable transmitting RS485. Service Engineers are now able to access the installations remotely over TCIP/IP or GSM Modem.
"Costly truck rolls have been eliminated," says Eichel. "Our service engineers can securely access every glass pane and trouble-shoot it remotely. Even older installations are now accessible to us with our retro-fit diagnostics kit. We are moving in a new direction with Perle Systems. What was initially a way in which to optimise our service operations, has led us to an all-round more up-to-date smart product."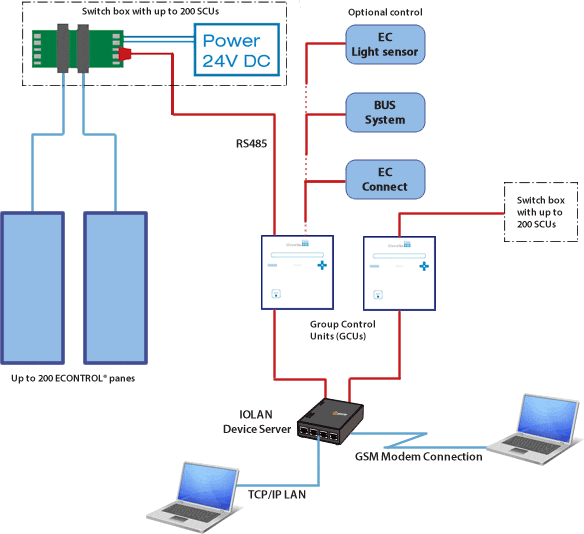 About EControl-Glas: – http://www.econtrol-glas.de/
Our know-how is based on almost 20 years of development and on a wealth of experience with modern sheet glass technology. In 2006 we transferred our know-how to an independent company via an MBO. Private investors and experienced managers from the sheet glass industry also joined as directors.
Since September 2009 we have been based in Plauen in the Vogtland, a region with longstanding industrial traditions. Here, we have industrialized our EControl technology and will extend and develop it further over the coming years. Of course, our own building is also fitted with EControl®.