Mining, Quarrying, Oil & Gas Extraction
No industries have more demanding requirements for safety and reliability than the Mining, Quarrying, Oil & Gas Extraction sectors. The infrastructures are vast, the conditions extreme and the environment remote.
Reliability is the critical successful factor to monitor a remote network infrastructure. In addition to redundant network systems with failover capability, the network equipment must comply with industrial standards to certify an ability to operate in environments with varying temperatures, corrosion, and vibration.
In addition, these industrial facilities are looking to improve efficiencies in data communication by connecting PLCs, RTUs, sensors, and SCADA systems over Ethernet.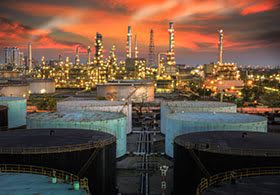 Perle industrial products are designed in strict accordance with globally accepted standards for use in subsea, topside, onshore and hazardous locations
Perle has been recognized by companies in the Mining, Quarrying, Oil & Gas industries for its reliable 'plug and play' device networking hardware. Here are just a few examples of how our Media Converters, Serial Terminal Servers and other device networking hardware meet the needs of these customers and their system integrators.

---
---

---
---
Other Clients in the Mining, Quarrying, Oil & Gas Extraction Industries :