Title
Sub heading test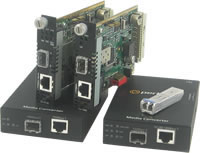 NASHVILLE, TN - October 19, 2010 – Perle Systems, a global provider of advanced fiber to Ethernet and secure device networking solutions, today announced an extensive line of SFP Media Converters for end-to-end fiber to Ethernet conversion.  The pluggable fiber optics port on the Media Converter allows for flexible network configurations using SFP Optical Transceivers supplied by Perle, Cisco or other manufacturers of MSA compliant SFPs.
Perle SFP Optical Transceivers are interchangeable, compact media connectors that enable a single network device, like an SFP Media Converter, to connect to a wide variety of fiber and copper cable types and distances.   Also known as mini-GBIC, they provide modularity in locations where easily upgradeable fiber types and distances are a priority.
"Media Converters with an SFP slot provides customers with a cost effective Ethernet to fiber solution using the customer's SFPs that they have standardized on," said John Feeney, COO of Perle Systems. "For example, organizations can connect a remote Ethernet device over fiber to a data centre Cisco switch using Perle SFP Media Converters with Cisco SFPs from their existing stock."
In managed systems, the status of the SFP fiber transceiver, such as voltage and temperature, can be read through the Diagnostic Management Interface ( DMI ), also known as DOM ( Digital Optical Management ).
Learn more about Perle's SFP Media Converters.
About Perle Systems www.perle.com
Perle Systems is a leading developer, manufacturer and vendor of high-reliability and richly featured connectivity and device networking products. These products are used to connect remote users reliably and securely to central servers for a wide variety of business applications. Product lines include Console Servers for Data Center Management, Terminal Servers, Device Servers, Remote Power Switches, Media Converters, Ethernet I/O, Serial Cards, Parallel Cards and Multimodem Cards. Perle distinguishes itself through extensive networking technology, depth of experience in major real-world network environments and long-term distribution and VAR channel relationships in major world markets. Perle has offices in 9 countries in North America, Europe and Asia and sells its products through distribution and OEM/ODE channels worldwide.
Contact
pr@perle.com