Perle Systems Case Study
BBC use Perle Fiber Converters to Transmit Multimode Audio Data over
Single Mode Fiber
Perle Media Converters convert data with utter transparency, no disturbance or interference.
The standard communication protocol used in audio broadcasting is Multichannel Audio Digital Interface (MADI) which carries up to 64 high quality channels of digital audio. It supports transmission over coaxial cable or fibre optic lines. When the BBC use MADI for indoor transmission in the studio, communication over coax cable is sufficient. However, when interviews or live events take place outside of the BBC building, a MADI mixing console or multitrack recorder is taken on location where the audio needs to be transmitted to a mobile broadcasting truck.

When on location, audio engineers never know what type of structured cabling will be available for transmission. However, they have frequently found that offices and public buildings are wired with single mode fiber.
Because the MADI consoles used by the BBC support multimode fiber, they needed a multimode to single mode converter in the "mobile tool-kit".
The primary requirement was for the MADI audio data to be converted with utter transparency and no disturbance or interference. The solution was to load Perle Protocol Transparent Media Converters with one multimode and one single mode SFP. This would allow for seamless multimode to single mode conversion and transmission of the MADI audio data out to the broadcasting truck.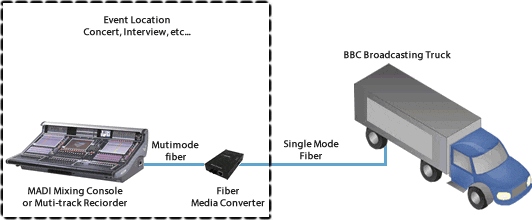 This mobile solution enables the BBC to take any MADI console and a Perle Media Converter to different locations easily transmit interviews and live feeds to the broadcasting truck for further processing.
About the BBC: www.bbc.co.uk
The BBC is the world's leading public service broadcaster. Its mission is to enrich people's lives with programmes that inform, educate and entertain. Established by a Royal Charter, the BBC is a public service broadcaster funded by the licence fee paid by UK households. We use the income from the licence fee to provide services including 10 national TV channels plus regional programming, 10 national radio stations, 40 local radio stations and an extensive website.
BBC World Service broadcasts to the world on radio, on TV and online, providing news and information in 27 languages and world service English language.