Perle Systems Case Study
NBCUniversal use Perle Industrial Switch and Media Converter to gain device control of Ethernet enabled satellite amplifiers greater than 300ft from a switch
The solution was a simple, inexpensive way to extend the network.

Broadcasting companies face relatively unique network challenges. They often need to extend their infrastructure beyond the boundaries of the office building and out to satellites. This was the case for NBCUniversal who needed to extend a new network link out to existing satellite systems and ran into a potentially costly project.
We got together with NBCUniversal's Shaheen Mozaffari, Nabet Earth Station Engineer, to talk about the company's project at its Global Earth Station. The choice to implement a Perle Industrial Ethernet Switch and Media Converter solution was straight forward. Mozaffari comments, "We just wanted a simple, inexpensive way to extend the network. The 300ft distance limitations of Ethernet meant that we could not run Ethernet, but we had power and we had fiber in place."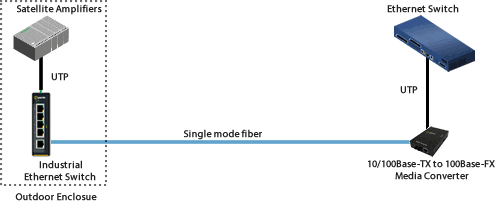 A Perle Industrial Ethernet Switch was connected to satellite amplifiers in an existing outdoor enclosure. The fiber was then run back to an indoor Media Converter to convert the fiber back to copper.
According to Mozaffari, "The installed Perle switch and media converter was a simple plug and play endeavor."
Why Perle?
The search for a new solution was focused on reliability and cost effectiveness. NBCUniversal needed the switch to reside in an outdoor environment, and the Perle product met all of the size, temperature and reliability requirements.
In the end, Perle was able to provide an easy-to-install solution that helped NBCUniversal take a potentially complex project and make it as simple as plugging in a few cables.
About NBC Universal www.nbcuniversal.com
NBCUniversal owns and operates a valuable portfolio of news and entertainment television networks, a premier motion picture company, significant television production operations, a leading television stations group, world-renowned theme parks, and a suite of leading Internet-based businesses. NBCUniversal is a subsidiary of Comcast Corporation.