Perle Systems Case Study
University of Victoria underwater observatory
uses Perle technology to deliver data to the surface in real-time
Since February 2006, the University of Victoria has been engaged in a unique information gathering initiative with its Victoria Experimental Network Under the Sea (VENUS) project. This world leading research initiative is using existing network technology in a non-traditional environment to transmit data streams from oceanographic instruments located on the ocean floor.
The VENUS project deploys more than 50 instruments that use a wide range of methods to gather data. These instruments are plugged into the Scientific Instrument Interface Modules (SIIMs), which are connected to a node that combines the data streams from the SIIMs into a single stream that is sent back to the shore station on the main fibre optic cable. The node also controls and monitors the power and communication services provided to the SIIMs. One or more SIIMs are installed on each VENUS Platform, a galvanized steel structure for housing instruments near the seabed.
Thanks to Perle technology, the data from the numerous serial-based instruments can now be sent along the fibre optic cables for viewing by marine biologists, sediment geologists, students, and other researchers, as well as the general public.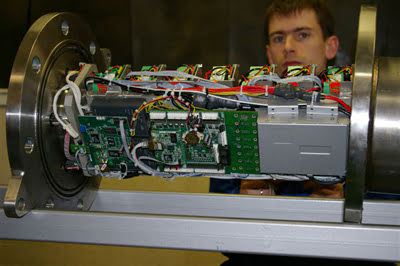 Setting up this seafloor "observatory node" in Saanich Inlet off Vancouver Island is a highly complex exercise, since instruments must be able to withstand the rigors of an underwater environment. According to Adrian Round, the VENUS Project Manager, a key challenge was finding a way for the instruments being used to measure energy, oxygen, gas tension, suspended solids and other parameters to transmit the data over the Internet. "These instruments were never designed for a cable configuration. In fact for the most part, they are serialbased instruments that use a variety of RS232, RS422 and RS485 interfaces that under normal circumstances can't communicate with an Ethernet network."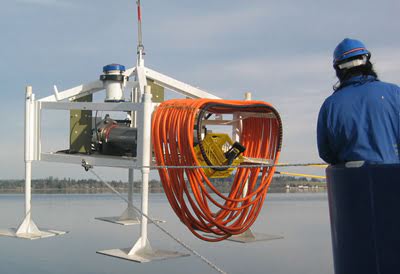 In order for this underwater network to work effectively, the team needed to find a module that would interface with the devices to translate data for delivery over Ethernet, as well as enable remote configuration of the various underwater measurement instruments. The solution was found in Perle IOLAN Device Servers – a compact technology that enables simple serial-to-Ethernet connectivity.
Perle was chosen because it was the only technology available that fulfilled four critical criteria established by Oceanworks, the engineers for the VENUS project. These criteria were: small form factor; reliable data transfer (Perle was the only company to provide mean time between failure numbers with the warranty), SNMP (simple network management protocol) support; and software selectable RS232 / RS422 / RS485 interfaces.
Two IOLAN Device Servers are installed in each SIIM to enable transmission of the data from the various instruments attached to the SIIMs (Scientific Instrument Interface Modules) over fibre optic cable. A total of seven SIIMs are currently deployed on the VENUS observatory with plans to deploy more as the number of science experiments increases.
"What we have done essentially is put a WAN under the ocean to allow scientists to plug into devices under water," explains Round. "Traditionally we could only do this with generic instruments and a power battery that was submerged and then collected every two weeks. There was no way to interact with the devices."
He says that with the IOLANs on board "We have Ethernet connectivity and power so we can remotely access and collect instrument data from our head office or any other location with a web link in real time. That means we can leave the instruments down there for a much longer time. We also have the ability to monitor and reprogram them remotely. The small form factor helps because space was a big concern. It's very tight spacing inside the SIIMs."
Round adds, "We've never had that kind of real-time interactivity before. All we could do before was retrieve archived data. Now researchers can cross reference and link data, perform baselining, and mine data archives. They're no longer armchair scientists. There's a lot we are learning from this project that will help us – and other underwater research efforts – in the future."
Serial to Ethernet Solutions
Web or network enable existing equipment with RS232, RS422 or RS485 serial interfaces, quickly and easily. These Device Servers have the broadest set of standard and secure feature sets on the market at the most cost-effective price.