Perle Systems Case Study
York University use Perle Media Converters in Field Robotics Research Network
Perle Gigabit Media Converters provide fiber to copper conversion and POE+ to WLAN
Access Points inside NEMA Weatherproof Enclosures.
As Canada's third largest University, York University is at the forefront of interdisciplinary and collaborative research projects. The Canadian Centre for Field Robotics (CCFR), which is part of York University, provides a national setting for robotics research. It allows collaboration between industry and academia by developing and testing complex outdoor robotic vehicles that operate on the ground, in the air and underwater.
Whether they be as small as a shoebox or as large as a passenger car, the CCFR was interested in determining the navigational capabilities of the robots. Were they capable of finding their way around using GPS?
To do this they needed to build a fully instrumented and networked outdoor test area for robot field trials. This would also include an outdoor aquatic robot test area for experiments with surface and underwater aquatic robots.
The project required outdoor WLAN coverage over much of the west side of York's Keele campus. The plan was to deploy numerous WLAN access points (APs) inside NEMA Weatherproof enclosures to be fed by Single mode Fiber. Copper cable could not be utilized due to 100 meter data transmission distance limitation.
They considered two options for powering the AP's. Either via an in-line power injector in the enclosure, or via POE+ supplied by a media converter. After taking into account budgetary concerns and product testing, York University decided to use a media converter with one fibre port and two copper ports. It needed to have 10/100/1000 capability with an SFP fiber port and POE+ on both copper ports. The media converters would be fibred to a switch port and provide copper connectivity with POE+ to a wireless AP and a small environment monitor inside the NEMA Weatherproof Enclosures. Local AC inside the box would power the media converter.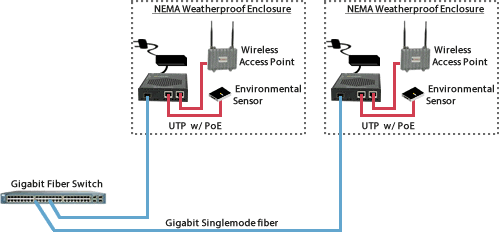 By mounting the enclosures on poles and building throughout the campus, this setup would enable access and control to the all the test areas and robots over the campus network.
Having used Perle products in the past, James Savage, Senior Communications Technician for University Information Technology contacted Perle. In addition to the hardware specification, they required media converters with an on-board processor that continuously monitors that both the copper and fiber connections are up. This functionality, generally referred to as "Link Pass-Through", monitors the state of the link to the end devices and ensures that each end-point knows whether the entire link is up or not. Some media converters do not have this intelligence and simply "nail up" the link even though the remote copper device may be down or the fiber link broken. With Link Pass-Through functionality available in all Perle Media Converters, the network's SNMP management system can be alerted when a fault occurs so that corrective action can take place.
By meeting all specifications and passing lab tests, Perle S-1110 PoE Media Converters were selected for the job. After installation James Savage commented, "It was simply plug-and-play with the Perle multiport media converter... it appears to do exactly what we were looking for."
Learn more about Perle Media Converters.
About York University: www.yorku.ca
York University is helping to shape the global thinkers and thinking that will define tomorrow. York is Canada's third largest university with a commitment to excellence which reflects a rich diversity of perspectives and a strong sense of social responsibility that sets us apart. As a globally recognized research centre, York is fully engaged in the critical discussions that lead to innovative solutions to the most pressing local and global social challenges. York's 11 faculties and 28 research centres are thinking bigger, broader and more globally, partnering with 288 leading universities worldwide. York's community is strong — 55,000 students, 7,000 faculty and staff, and more than 250,000 alumni.