Using existing cabling, Super Slotline™ converts traditional serial floors to high-speed floors that emulate the speed and compatibility of Ethernet. Connection speeds are increased to over 80MB per second. The system is easy to install and is compatible with all standard cable types. And, because no remodelling is necessary, there are zero disruptions to casino operations.
A critical component of this system is the implementation of Perle Ethernet Extenders that transparently extend 10/100/1000 Ethernet connections across the existing serial cables.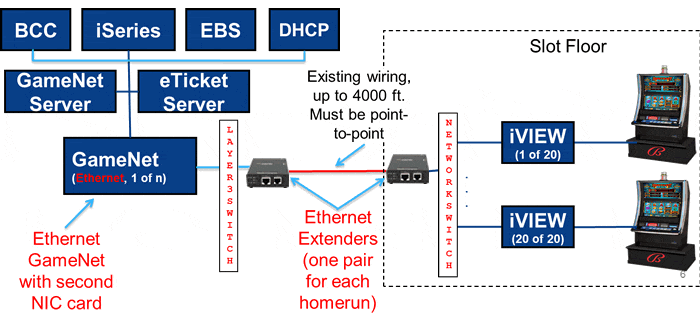 The average cost of upgrading with Super Slotline™ is just $100 per game as opposed to the $500 per game cost of upgrading to a high-speed floor, not including the massive cost of floor disruption and re-cabling.
Super Slotline™ supports Bally award-winning systems and player-loyalty products.
About Scientific Games - www.sggaming.com
Scientific Games Corporation (NASDAQ:SGMS) is a leading developer of technology-based products and services and associated content for worldwide gaming, lottery and interactive markets. The Company's portfolio includes gaming machines, game content and systems; table games products and shufflers; instant and draw-based lottery games; server-based lottery and gaming systems; sports betting technology; loyalty and rewards programs; and interactive content and services.