Perle Systems Case Study
Bally Systems' Super Slotline™ utilizes Perle Ethernet Extenders to Convert Casino Serial Floors into High-Speed Floors

Bally Technologies, the oldest slot manufacturing company in the world, and inventor of the first slot data system, has been credited with many milestones in the global gaming industry since 1932. When acquired by Scientific Games in 2014, the momentum to advance gaming technology excelled to a whole new level.
Casinos are constantly looking for ways to entice new gamers into their premises and inspire existing customers to stay longer. This means ensuring the IT network is capable of superfast game level communication and is ready to add new games, content and technologies as they come to market.
A majority of gaming floors still use serial wiring which, although reliable, operates at a fraction of the speed of Ethernet. Casinos need to upgrade, but implementation costs and operational downtime are huge barriers to overcome. Bally Systems' Super Slotline™ provides an innovative solution to this dilemma – don't replace the existing infrastructure…make it better.
Using existing cabling, Super Slotline™ converts traditional serial floors to high-speed floors that emulate the speed and compatibility of Ethernet. Connection speeds are increased to over 80MB per second. The system is easy to install and is compatible with all standard cable types. And, because no remodelling is necessary, there are zero disruptions to casino operations.
A critical component of this system is the implementation of Perle Ethernet Extenders that transparently extend 10/100/1000 Ethernet connections across the existing serial cables.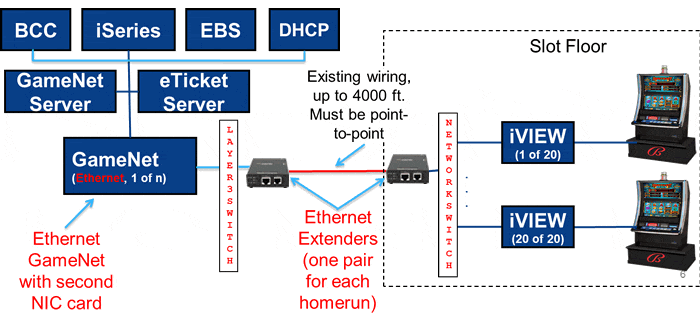 The average cost of upgrading with Super Slotline™ is just $100 per game as opposed to the $500 per game cost of upgrading to a high-speed floor, not including the massive cost of floor disruption and re-cabling.
Super Slotline™ supports Bally award-winning systems and player-loyalty products.
About Scientific Games - www.sggaming.com
Scientific Games Corporation (NASDAQ:SGMS) is a leading developer of technology-based products and services and associated content for worldwide gaming, lottery and interactive markets. The Company's portfolio includes gaming machines, game content and systems; table games products and shufflers; instant and draw-based lottery games; server-based lottery and gaming systems; sports betting technology; loyalty and rewards programs; and interactive content and services.