Perle Systems Case Study
IBEROSTAR install new CCTV system at Riviera Maya Resort with
Perle Ethernet Extenders
Long distance data transmission was needed between cameras and networking closets

The Riviera Maya in Mexico is one of the most beautiful and exquisite vacation destinations in the world. It extends 130km along the coast and is of touristic importance and value to Mexico. Endless miles of white sandy beaches, natural lagoons, unspoiled coral reefs and Mayan temples are just some of the attractions.
IBEROSTAR Hotels & Resorts operate seven 5 star hotels on the Riviera Maya. Each consists of hundreds of rooms, swimming pools, restaurants and entertainment facilities. When it was time to update an old and outdated CCTV system at one of its resorts, they turned to Cosmobit, one of Mexico's premier suppliers of infrastructure, connectivity and security solutions.
Dulce Carillo, Telemetry Business Unit Manager at Cosmobit explains, Guest safety is extremely important to IBEROSTAR and they wanted to install a state of the art CCTV system. The entire hotel complex, perimeters, lobbies, spa facilities, pool landscapes, restaurants and beachside needed to be fitted with cameras and the corresponding network infrastructure
CCTV cameras were installed throughout the resort and connected over Ethernet to strategically placed networking closets. As most of the CCTV cameras were more than 100m away from the networking closets, Ethernet Extenders were used to extend the data transmission distance up to 3 km.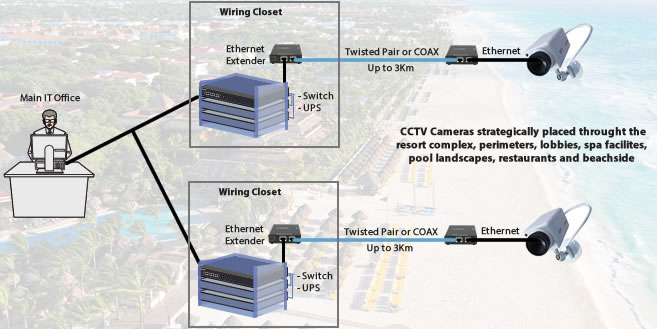 Dulce explains, We considered installing a fiber network, but it simply was not necessary. With the installation of the Perle Ethernet Extenders we could utilise the existing cabling already installed. The maximum distance we required was a few hundred meters. In our experience, installation and maintenance of a copper Ethernet network is easier than fiber.
Perle Ethernet Extenders facilitate reliable, real-time CCTV transmission across the IBEROSTAR resort to keep guest and staff safe.
About Cosmobit : http://www.cosmobit.com.mx/
Cosmobit offer infrastructure, connectivity and security solutions to increase the productivity and effectiveness of the information technology of our clients. Providing solutions in the fields of infrastructure, connectivity & networks, security and managed services.