Perle Systems Case Study
Central Bank of Nigeria use Perle Industrial Switches in CCTV Security Upgrade
Acti-Tech spec Perle PoE Industrial Switches to fulfill connectivity requirements for new CCTV installation operating in high temperature environment.
When the Central Bank of Nigeria decided to improve security with a new CCTV installation at branch offices in Lafia they selected Acti-Tech, a local Systems Integrator, to specify and purchase all of the necessary IT and network equipment.
"Being involved in a prestigious project for the Central Bank of Nigeria, and aware of the importance of reliability and security for financial institutions, it was imperative that we source dependable hardware," explains Augustus (Augie) Chalokwu, Chief Technical Officer at Acti-Tech Limited.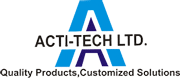 Having decided on Bosch CCTV cameras, connectivity into the bank's network posed several challenges:
The operating environment would be extremely hot in the blazing African sunshine. Average temperatures in Lafia are around 35°C in the shade. On a previous project, Chalokwu learned that commercial grade networking equipment is not able to withstand these extreme conditions.  When choosing equipment for the bank, this would be a major deciding factor.
There was no power at the site of the CCTV cameras. The network connectivity hardware would need to provide Power over Ethernet to the cameras.
Copper-based Ethernet connections are limited to a data transmission distance of only 100 meters. Since the cameras would be located up to 195m away, fiber optic cabling would be the most reliable solution.
By installing Perle PoE Industrial Switches and with Extended Temperature SFPs, Acti-Tech were able to overcome the challenges and provide a reliable security solution to the bank. Every component in Perle Industrial-grade switches and SFPs have been designed and tested to operate in extended temperature ranges from -40°C to 75°C.
Perle IDS PoE Switches are classified as Power Sourcing Equipment (PSE) and fully compliant to IEEE 802.3af/at. While using standard UTP cables that carry Ethernet data, they also provide up to 30 watts of power to Powered Devices (PDs) such as wireless access points, Voice over IP phones and IP cameras.
And, the SFP fiber ports fulfil the distance requirements between the CCTV cameras and the branch offices with multimode fiber.
Perle Industrial Gigabit PoE Switches are installed and running smoothly at the Central Bank of Nigeria. "We are happy with it," comments Chalokwu.
About Acti-Tech - http://www.actitech.net/
Acti-Tech Ltd is a major ICT solutions provider in Nigeria. As a wholly indigenous and dynamic systems integrator, Acti-Tech employs over 50 people, a large number of whom are well trained and certified engineers. Every day, we help different organizations and individuals achieve their objectives in business, governance and lifestyle through the state-of-the-art solutions. We are passionate about attracting and supporting well-trained and disciplined talent, growing our business and driving operational excellence while making a positive impact on our community.