Perle Systems Case Study
Lockheed Martin integrate Perle Fiber Media Converters
Perle Media Converters selected to provide copper to fiber conversion in a harsh Lockheed Martin Data Imagery application

During a major system upgrade at over 70 customer sites, Lockheed Martin needed to deal with various equipment subjected to an industrial environment with high humidity and dust. They wanted to move the sensitive equipment away from these harsh conditions and into a Comms Room. They also wanted to replace it with a more robust alternative, to increase the lifetime, safety and security of the equipment.
The existing application consisted of a PC which fulfilled the transmission of data imagery and provided a communications link to the network. In order for the communications link to function, the PC was fitted with a fiber card, carrying out fiber to copper conversion.
The system upgrade provided the opportunity to come up with a better solution. The network communication would be handled from a Comms Room and the IT equipment would not be exposed to the harsh environmental conditions. It was decided that it would be best to replace the PC with a solid state technology, designed by Lockheed Martin to handle the data imagery, and install a Media Converter to provide the copper to fiber conversion for the network link.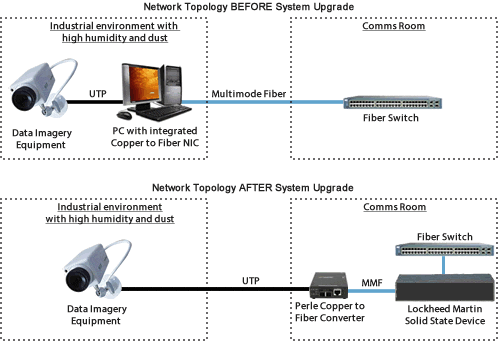 John Rumbles, Engineer at Lockheed Martin, hit the internet to find an appropriate fiber media converter for his customer. "I knew that I needed a Media Converter and as soon as I realised that Perle was able to provide it, the choice was a no brainer", explained John. "I was extremely satisfied with the support I received from the Perle Team on other projects and knew I could get that same level of service again."
Following a successful demo and test phase, 135 Perle Fiber Media Converters were successfully integrated into the customers system.
Headquartered in Bethesda, Md., Lockheed Martin is a global security and aerospace company that employs about 120,000 people worldwide and is principally engaged in the research, design, development, manufacture, integration, and sustainment of advanced technology systems, products, and services. The Corporation's net sales for 2012 were $47.2 billion.