Perle Systems Case Study
Jorin and Perle Join Forces to Reduce Oil Pollution in the Water Supply
Perle Media Converters provide Jorin with Gigabit to Fiber connectivity at extreme temperatures.

Water, often taken for granted, is a vital resource for our bodies and industry. 20% of the world's water is used by the industrial sector1. It is an integral part of the production process for industries that produce any kind of product, such as metals, wood, paper, chemicals, gasoline and oils.
With increasing environmental pressures and opportunities for the beneficial re-use of process waters, industrial water users, particularly those in the oil and gas sector, are constantly searching for water treatment process optimisation and efficiency gains.
Organizations that need to monitor their water treatment processes turn to companies like Jorin who specialize in the analysis and identification of oil droplets and solid particles in water.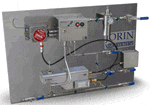 Jorin manufactures Visual Process Analysers that provide real-time analysis of particles, droplets and bubbles in water. One part of the Jorin system consists of a camera fitted with an objective lens to film the water as it passes through a flow cell. The live stream is transmitted to a PC installed with Jorin software that analyses the microscopic fluid contaminants to determine a parts per million concentration and micron size distribution of oil, solid and other non-dissolved contaminants in the water. This data is used to issue alerts, trigger commands to attached equipment and produce a multitude of custom reports.
"During a system refresh we decided to upgrade to a Gigabit IP camera to provide more accurate output data," says Rob Snow, Operations Manager at Jorin. "In addition, this would allow us to move away from Firewire, which was getting increasingly difficult to support."
To integrate a Gigabit IP camera Jorin needed a Rate Converting Media Converter that could withstand high temperatures. The equipment, housed in an enclosed system, is sometimes exposed to desert like conditions, depending on the customer location.
Jorin implemented two Perle Ruggedized 10/100/1000 Media Converters in each system:

Perle Media Converters fulfilled the connectivity requirements, extended temperature specification and compact physical size needed for integration into the Jorin solution. In addition, the Perle Industrial Temperature Media Converters increased processing and transmission speeds, guaranteed bandwidth system reliability and future-proofed the installation going forward.
About Jorin – www.jorin.co.uk
Jorin Limited is a UK instrumentation company, designing and manufacturing on-line particle analysis systems based on video imaging technologies. Jorin's aim is provide critical process data, enabling their users to optimise their process performance and realise their full potential. Founded in 1998, Jorin has developed the process expertise that both drives developments in their instrument brands including ViPA, LaVA, InVA, and underpins their oilfield water management consultancy brand, Process Insight.
1The United Nations World Water Development Report 2014 – Water and Energy Volume 1. Page 23. United Nations Educational, Scientific and Cultural Organization, 2014. Web. 5 November 2014