Perle Systems Application Note
Standardizing to Streamline Radiation Monitoring Protection Systems
As the largest supplier of radiation protection personnel and decontamination services to the U.S. nuclear industry, system reliability is critical. The supplier provides a range of personnel, hardware equipment, application software and communications devices for monitoring and detecting radiation levels in all types of nuclear facilities, including Department of Energy, Department of Defense, commercial nuclear power, and other non-power licensed facilities.
The supplier manufactures radiation safety monitoring systems (RMS) that integrate live video images, site wide communications and radiation sensors into one manageable structure that is easily configured to meet their clients constantly changing work requirements of the facilities. RMS is used by these facilities to monitor elements such as air quality, personnel exposure, temperature and humidity and to manage work evolutions during refueling and maintenance outages.
The remote monitoring system monitors work activities throughout a plant, and displays radiation protection information in a graphical, user-friendly computer interface. Visual representations of the environment enable radiological control technicians to detect adverse trends and to initiate appropriate actions while radiological work is in progress. With RMS, technicians can repair valves and pumps knowing that sensors monitoring the environment via wireless transmitters will track the dose rate of the environment and samples of the individual.
The Application:
The information collected via RMS is routed back into one central location through multiple Terminal Servers. Once the data is brought into the supplier's servers, the information is disseminated to client systems in monitoring rooms through electronic messaging, computer display and HTML.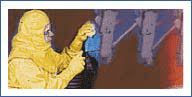 Over a number of years, the supplier had used a variety of Terminal Servers to remotely monitor its client's sites. They finally made the decision to standardize on one serial connectivity product that would work well across all sites.
They had to choose from a myriad of terminal servers available in the market, including those they had already used with RMS. The ultimate decision would come down to features and reliability.
The Solution:
After a lengthy and thorough evaluation process the supplier finally selected the Perle IOLAN Terminal Server. The Perle Terminal Server had the port settings required to monitor remote devices and was backed by a reputation for reliability.
The Perle Terminal Server could operate seamlessly in both terminal server and remote access applications, providing users with the best serial to IP solution for distributed Windows and Unix environments. It provided the supplier with the flexibility they required for the various operating systems.
"The Perle Terminal Server is a critical part of what we do," said the Vice President of Automated Monitoring Systems. "We could use other serial products but the Perle Terminal Server is easier to use and we can capture a lot of statistics and usable data. We can also view the activity live and take advantage of the many more settings available on the Perle Terminal Server, including those to house data protocols."