Perle Systems Case Study
Stockton East Water District choose Perle for Fiber to Ethernet upgrade
Perle Media Converters connect a remote server room, over 2000 feet of multimode fiber, back to a main server room 1000Base-T Switch to improve network redundancy and reliability.
The Stockton East Water District (SEWD) in Northern California provides surface water for both agricultural and urban uses. Located on an eight-building campus, spread out over about 200 acres, the network consists of three independent systems connected over CAT5 cabling:
General data for administrative purposes
Plant data for running pumps, flows, and chemical feeders
Internet access
With increasing demands for high-speed services and enhanced functionality, this network design was running at its ragged edge of ability. It became the intention of SEWD Network Administrator John McGinnis to re-build the system using fiber-optic communications capable of 1GB data rates.
The first step was to tackle the main server room responsible for managing plant administrative data and security systems.  All servers were located in the same room and if something happened, like a fire or flood, the district would lose all its data. It was decided to move half of the servers to a remote building located some 2000 feet away. SEWD required the two server rooms would function as one seamless unit that could be managed from one central location.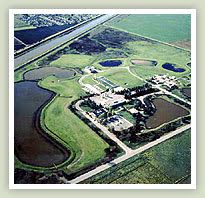 McGinnis needed Fiber to Copper Ethernet Connverters to connect the remote servers, over 2000 feet of fiber-optic cables, back to his 1000Base-T Switch in the main server room. This solution would ensure a seamless long-distance fiber to Ethernet connection without any loss of processing power or operating speeds. Using this arrangement allowed SEWD to utilize existing campus wiring and still provide catastrophic protection.
Already familiar with Perle from a previous project at AT&T in a fiber switching center, McGinnis chose Perle Fiber Media Converters to bridge the gap between his copper and fiber infrastructures.
"Our philosophy is to not make our data available to people with malicious intent", says McGinnis. "The new architecture has provided us with redundancy and reliability. Perle was chosen for convenience and speed and everything is going well. The converters were installed, half of the data center was moved and, since then, we haven't heard a peep from the whole system."
The next step is to take on an extensive CCTV security system that needs to be upgraded to support 1G data rates.  Perle Media Converters will be used on those links too, but more on that later...
About Stockton East Water District (SEWD) www.sewd.net
Since 1978, Stockton East Water District has been treating surface water at its Dr. Joe Waidhofer Water Treatment Plant to the Stockton urban area through its three urban contractors: the City of Stockton, the County of San Joaquin, and California Water Service Company. The Dr. Joe Waidhofer Water Treatment Plant is a 65 million gallon per day conventional water treatment plant serving a population of approximately 330,000.