Perle Systems Case Study
Sumitomo Metal Mining use Perle IOLAN Device Servers to enable Fuel Island Operation in the depths of Alaskan Winter
Creating a networked virtual serial port for remote download of transaction logs to keep the fuel dispensing system running

The Pogo Gold Mine is an underground, hard-rock mine located in a remote, logistically challenging and environmentally sensitive region of the Alaska interior. It has more than 90 miles of underground roads winding down more than 1,000 feet to yield high-grade gold. Once the ore is drilled, blasted and transported to the surface, the onsite mill processes up to 3,500 tons daily.
The mine runs 24 hours a day, year-round. Because the work site it so remote, it operates like a small city to service employees on-site for multi-day shifts before returning home. Housing, food, water treatment, emergency medical care, and a full-service fire department are all provided.
Dealing with the subarctic climate, where temperatures are below freezing from October thru April, causes numerous unique challenges for Mike Spooner, Telecom and Infrastructure Technician for Sumitomo Metals Mining Pogo LLC.
Diesel is a major fuel source at the Pogo Mine running everything from trucks, generators, mining equipment and the heating system. There is an on-site fuel island where dispensed quantities are logged by an antique "Computrol Fuelboy" Proximity Card system. Transactions are tracked so that accounting can divide up the fuel bill between different departments. However, Fuelboy can only hold 150 transactions in its finite memory. At that point it shuts down and no more fuel can be dispensed until the transaction log has been downloaded and cleared.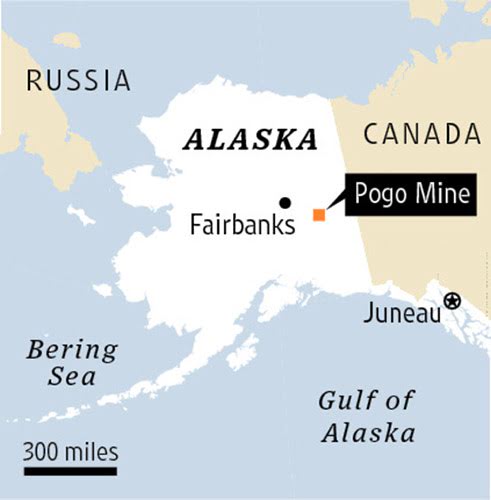 Spooner shared an interesting story, "One winter it was exceptionally cold, -60°F, and we were running lots of diesel powered heaters. Trucks needed to idle overnight so they wouldn't freeze. So, every couple of days, we would hit the transaction limit and the Fuelboy would shut down. The cure? I get to go to the fuel island, in the cold, plug a laptop into the Fuelboy's RS232 serial port and download the transaction log so it starts working again. I spent 2 months doing this every 2-3 days. The poor old laptop and I were not enjoying the -60 temps, at all. There were lots of frustrations and bad words. Laptops do weird things at -60°F."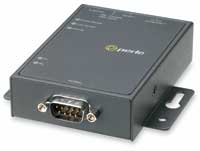 He continues, "I needed a way to stay out of the cold but the Fuelboy software would not support any kind of networked connection and required a null-modem serial link for download. So, I decided to find out if it was possible set up a networked virtual serial port. That's when I learned about the IOLAN SDG and TruePort."
TruePort is a free utility from Perle that provides true remote serial ports over an Ethernet LAN. Working in conjunction with an IOLAN Serial Device Server, it makes remote ports appear as if they are directly connected COM or TTY ports to an application.
Mike Spooner continues, "I ordered an IOLAN SDG1, started playing with it, and realized it just might fit the bill. So, I set up a 900mhz data-radio shot between the Fuel Island and a base-station, located across a parking lot, with the installed IOLAN. BAM! It worked! First attempt!"

"I head back to my office, a mile away, to test it from there, and BAM! It worked again!!! For the next week, every morning I'd come in and do a download whether it needed it or not, just for the thrill of it."
Mike concludes, "Well, the old laptop got turned into a Virtual Machine where we can login and download fuel logs in a matter of moments, without getting cold. The new system has had thousands of days of uptime by now. After seeing how well the solution works, and how incredibly stable it has been, Perle has forever won a place in my heart as the go-to solution for all things 'conversion'."
About Sumitomo Metals Mining POGO LLC: – http://pogominealaska.com
Pogo is owned and operated by Sumitomo Metal Mining Pogo LLC, a joint venture between Sumitomo Metal Mining Co., Ltd (SMM) and Sumitomo Corporation. SMM's corporate mission is to support shareholders, clients, local communities, employees and everyone else around the world in their endeavours to achieve economic and spiritual prosperity and realize their dreams through our sound business activities. SMM owns 85% of Pogo Mine while Sumitomo Corporation owns 15%.