Perle Systems Case Study
Sainsbury's integrate Perle Terminal Servers into Warehouse Distribution System
RS422 to Ethernet connectivity plays a critical role in optimum logistical operations
As the third largest supermarket in the UK, Sainsbury's has an enormous logistical operation. One of Sainsbury's Warehouse distribution centres is located at Waltham Point in Essex. It employs over 1,200 people, covers over 700,000 sq. ft. and, delivers to 89 Sainsbury's stores across the UK. The Warehouse never sleeps, operating 24 hours a day, seven days a week, 364 days of the year -- shutting only for Christmas Day.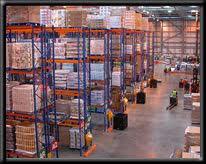 As products are delivered to the warehouse, they are allocated into cases and enter into the sophisticated Warehouse Control System (WCS). The WCS is a software application that directs real-time activities within the warehouse. This system is responsible for keeping everything running smoothly and maximising the efficiency of the material handling systems.
Every year, 1.2 billion cases pass through Waltham Point. The WCS tracks and sorts each case until they reach a supermarket shelf. In the warehouse distribution centre the cases travel through 180 chutes and are sorted into product categories such as dairy and canned goods. Each chute is fitted with a thin client video display as part of the WCS. Perle IOLAN Terminal Servers are used to provide the RS422 to Ethernet connectivity between the COM-Port on the chute-displays and the WCS.
The case and content information gathered at each video display station is critical to ensure optimum logistical operations at Sainsbury's through the Warehouse Control System.