Sonic Automotive use Perle PoE Ethernet Extenders to power Wireless Access Points ( WAPs )
WAPs enable sales people to use iPads and iPhones to enhance the customer experience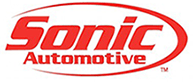 With over 120 car dealerships nation-wide, Sonic Automotive, a Fortune 500 Company, is one of the largest automotive retailers in the United States. To enhance the customer experience1, car salesmen are provided with iPads and iPhones on which they can access pricing information, model details, delivery times and more. Previously they would have needed to take the client back to the main office, or carry large brochures and catalogues around the car lot.
For the iPad and iPhone roll-out to work, Sonic Automotive identified the need for WiFi network access in all areas of the dealership and outdoor lots. The idea was to install WAPs throughout the car lots to provide this connectivity.
Larnel Hight, Network Engineer at Sonic Automotive, was confronted with two issues prior to installing the WAPs:
The outdoor car lots do not have power outlets.
Copper-based Ethernet connections are limited to a data transmission distance of only 328ft. They needed to go much farther.
Larnel found a Perle product that could solve both problems. PoE Ethernet Extenders would be able to provide the WAPs with power and extend the network distance up to 1640 ft – plenty for his requirements.

Inside each dealership, the Perle Ethernet Extender has full PoE support and operates as a Powered Device (PD).  This Extender then transmits power over copper wire to power the remote outdoor PoE Ethernet Extender and attached WAP.
Larnel comments, "This layout is straight forward and solves our requirements, hopefully leading to increased sales all round!"
About Sonic Automotive: http://www.sonicautomotive.com/
Sonic Automotive operates over 100 dealerships spread across 14 states and 25major metropolitan markets. We represent approximately 25 different automotive brands with the majority of our dealerships being luxury and import brands. We are an industry-leading automotive retailer committed to providing our customers with an outstanding automotive experience that is delivered with professionalism, integrity and enthusiasm.
1 Sonic Automotive Driving growth with iPhone and iPad. Apple. Web. 9 June 2016