Perle Systems Case Study
Perle Industrial Switches provide reliable connectivity in traffic light control system
Optimizing Traffic Flow in the City of Charlotteville
The synchronization of traffic light systems is complex due to the number of parameters involved. Variable traffic flows, accidents, the passage of emergency vehicles, pedestrian crossings, and so on can lead to congestion and traffic jams. By installing a system of cameras, sensors, radios, and other equipment, telemetry data can be collected and sent to a central control system, enabling traffic lights to be synchronized in real-time for optimum traffic flow.
When the City of Charlotteville decided to upgrade its existing traffic light control system to regulate and optimize the flow of traffic throughout the city, they turned to Tony Petrella, Vice President, at Advanced Network Systems. Petrella explains, "Each intersection has a pedestal location that houses a traffic light controller. As people pull up, a sensor ascertains the direction of travel and starts a timer so the lights cycle like they are supposed to. But, the existing system was self-contained and only controlled the light at that intersection. Charlotteville wanted to expand the system to synchronize a whole line of lights. To enable multiple controllers to communicate with each other, we needed to do a system refresh."
The switches in the existing enclosures only supported 100MB speeds. Advanced Network Systems needed something they could "scale up a little further" with faster speeds and more ports for the additional comms equipment.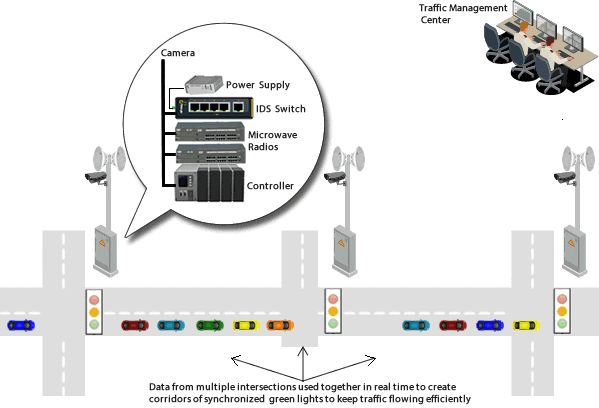 With support for gigabit speeds, and -40 F to 167° F operating temperatures, Perle IDS 5-port Managed Industrial Ethernet Switches were installed in NEMA enclosures throughout the City of Charlotteville. A camera, traffic light controller, and 2 microwave radios are connected to each IDS Switch. The microwave communication is then backhauled to the traffic management control center where the collected telemetry can be synchronized with other controllers on the street.
Petrella concludes, "I have used Perle IDS Switches in many applications where I needed a hardened switch that could operate reliably in extended temperature environments. The Perle Switches provide dependable connectivity in challenging the conditions of NEMA enclosures with no environmental controls."
About Advanced Network Systems:  – https://www.getadvanced.net/
Advanced Network Systems provides industry-leading cybersecurity and IT network solutions for organizations in Virginia, West Virginia, and the Mid-Atlantic region. We offer a full suite of cybersecurity and IT services and solutions that address IT needs ranging from projects up through the program level. We specialize in services that reduce cyber risk including cybersecurity strategy consulting, cybersecurity audits and threat analysis, internal vulnerability assessments, external penetration testing, cyber incident management, threat remediation, compliance support, systems engineering, and technology integration.