Perle Systems Case Study
Perle PoE Switches Remotely Reboot attached Surveillance Cameras
Engie Solutions' Ineo Infracom needed a compact PoE switch that supported IEEE802.3bt
Security camera systems are commonplace in large and small urban settings. To be effective in areas that require surveillance, the cameras are often strategically placed at the top of a light pole or on the side of a building. However, these locations pose several challenges for surveillance system technicians, designers, and installers.
We spoke with Louis-Marie Bouvattier, Project Manager at Engie Solutions' Ineo Infracom, about a surveillance system they deployed in France. "Every surveillance system is different, but the core components of our build included the cameras, a Perle Managed Industrial Ethernet Switch, and a 24vDC PSU housed in a weatherproof enclosure. The Perle Switches were chosen because they supported the required management features and secure authentication methods through IEEE 802.1X or MAC addresses."
While this set-up worked very well, there was one area in which Engie wanted to improve. Bouvattier continues, "Surveillance cameras can sometimes freeze, glitch, or be otherwise temperamental -- requiring a reboot. With our existing set-up, we had to send staff out to reset and reboot cameras regularly. This needed to change. We needed a PoE Switch."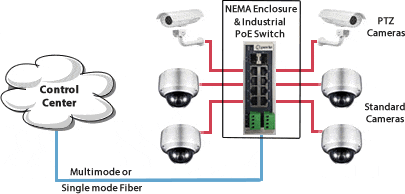 The new system would be integrated in a specially designed housing which is aesthetically consistent with the city's architecture. The new PoE Switch would need to meet these specifications:
be small enough to fit into the new enclosure
provide PoE to a minimum of 5 surveillance cameras
have the capability to reboot the attached cameras remotely
operate in temperatures of -40°C to +75°C as a safeguard from cold winters and hot summers
supported the required management features and secure authentication methods
Bouvattier comments, "During testing we encountered a secondary problem. On paper, the cameras we were using had power requirements of 30W. However, we found that they sometimes operated erratically unless at least 60W of power was available. A standard PoE switch would not be enough. We needed a PoE switch that supported IEEE802.3bt."
The Perle IDS-710HP-XT was the solution. Able to provide up to a total of 450W power across its 8 ports to connected devices, it was also small enough to fit into the designed enclosures. The PD Power Reset feature enables them to remotely reboot any of the surveillance cameras at any time. The switch can operate in temperatures between -40°C and +70°C and provides network connectivity through two SFP Slots supporting 1G/2.5G Fiber or 10/100/1000 Copper.
Bouvattier concludes, "The IDS-710HP-XT matched all our requirements, dimensional and technical. This was the missing piece to create a flexible solution that could be used in all urban security camera settings."
About Engie Solutions' Ineo Infracom: – https://www.engie-solutions.com/
Engie Solutions, via Ineo Infracom, provides electrical engineering services to customers worldwide. The Company offers industrial and tertiary installations, energy networks, public lighting, transport and telecommunications infrastructures, energy production, security, information systems, maintenance, and outsourcing.