Perle Systems Case Study
Avis Budget Chooses Perle Console Servers to Ensure Network Uptime
Perle IOLAN SDS3M Console Servers are selected for remote network access by Avis Budget
to ensure their new Telco provider can deliver on its Service Level Agreement (SLA)

The rental car industry is fiercely competitive with major players vying for customers in a $30 billion market. Under constant pressure to offer better cars, lower prices and upgraded service packages, Avis Budget cannot afford to miss a trick.
Customers demand fast and convenient contract handling, car availability and smooth financial transaction processing. To deliver this, the internal company network at Avis Budget must be operating at all times to coordinate the location of cars and trucks, release vehicles to customers and manage the complex contracts and sensitive financial transactions.
To maximize network uptime Avis Budget entered into a tight Service Level Agreement (SLA) with a major US telecommunications provider. The SLA defined strict MTBF (Mean Time Between Failures), MTTR (Mean Time To Recovery), data rates throughput and so on.* While Avis Budget is only interested in network uptime, the Telco wants to meet its obligations with a minimum number of "truck rolls" – the dispatch of a maintenance truck or other vehicle to an off-site location. Truck rolls are expensive and time consuming, especially when the network downtime clock is ticking. Therefore, multiple methods of network administration and assessment are necessary for the Telco.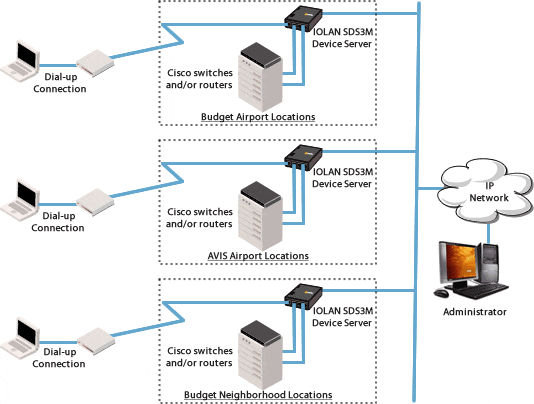 The network at each Avis Budget retail outlet is set up to be constantly monitored by the Telco. When a disruption is detected it is critical for the Telco to determine from where the problem is originating. The first step is to check the network at the Avis Budget outlet for power outages or malfunctions of a switch or router. To do this, and as a condition of the SLA, Avis Budget instructed the Telco to install Perle IOLAN SDSM Console Servers with an integrated V.92 Modem. This allows the Telco to access the network over IP, or dial-up modem connection, and carry out initial network diagnostics. By accessing the network remotely, the Telco is able to monitor and manage various Cisco routers and switches on the network and decide if a maintenance truck needs to be sent to the site.
Testing at Avis Budget went smoothly as they were immediately pleased with the dependability of the Perle Console Server. More extensive testing, and ridged approval processes were completed at the Telco before IOLAN SDSM Console Servers were deployed to thousands of Avis Budget outlets.
Perle IOLAN SDSM Console Servers with an integrated V.92 Modem are now the primary access points for remote console management of the Avis Budget network via IP or dial-up modem connection. They serve as a critical component to ensure the SLA commitments of the telecommunications company are met and the Avis Budget corporate network uptime is maximised.
Avis Budget Group, Inc.
Avis Budget Group, Inc. is a leading global provider of vehicle rental services through its Avis and Budget brands, with 10,000 rental locations in approximately 175 countries around the world. Avis Budget Group operates most of its car rental offices in North America, Europe and Australia directly, and operates primarily through licensees in other parts of the world. Avis Budget Group has approximately 29,000 employees and is headquartered in Parsippany, N.J. For more information, visit www.avisbudgetgroup.com.
* Typical parameters for common SLA's include 99% internet availability, less than 0.4% packet loss and jitters of less than 5ms. If the parameters are not met penalties, such as 33% of the monthly fee for small breaches or to up to 100% monthly fee for large breaches, are applied.