Perle Systems Case Study
Priority Communications Select Perle Media Converters
to Resolve Warehouse Ethernet Distance Limitations
"Working flawlessly ever since …"
The demands of today's network, often outpace the original design – in terms of performance requirements, cabling infrastructure, adding new users and bandwidth to name a few. A large warehouse expansion project was faced with such demands during a physical expansion, which took the Ethernet network to the brink of its capabilities.
Copper-based Ethernet connections are limited to a data transmission distance of only 100 meters. Needing to extend this link over a greater distance, Bill Cesan at Priority Communications decided to install some multimode fiber and Perle Ethernet to Fiber Media Converters. This would enable the physical extension of the Ethernet network and also improve the network speed.
Bill describes the application – "The converters are used in a large warehouse environment with locations pushing Ethernet limitations. So, a fiber cable was run, point to point, media converters put on each end with router and switch, and now machine shop management has high speed network activity. Working flawlessly ever since."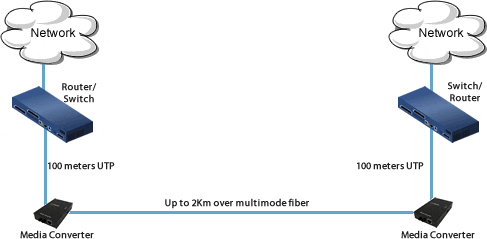 Electrical signals propagate along a cable very quickly, but they weaken as they travel, and electrical interference from neighbouring devices (fluorescent lights, noise) can scramble the signal. A network cable must be short enough that devices at opposite ends can receive each other's signals clearly and with minimal delay. This places a distance limitation on the maximum separation between two devices on an Ethernet network. Perle's line of Media Converters transparently connect copper to fiber, and provide an economical path to extend the distance of an existing network, the life of non-fiber based equipment, or the distance between two devices.
Perle has over 700 models of Managed and Unmanaged Media Converters to extend copper to fiber, multimode to multimode and multimode to single mode fiber.
Priority Communications http://www.prioritycom.com/
Priority Communications is a privately held telecommunications company established in 1989.