Control Systems standardize on Perle Ethernet Extenders in Smart Parking Facilities
Industrial Ethernet Extenders to bridge copper distance limitations for hardware beyond 328ft

The first ever parking meter was installed in Oklahoma City on July 16th 1935. Since then the parking industry has grown to an estimated 800 million parking spaces in the USA worth over $25 billion. It is the second largest cash business in the USA, following Casinos.
The infrastructure behind this traditionally straightforward business is now more complex than many would imagine. The "Smart Parking" era is in full swing, encompassing electronic parking payment systems, mobile parking payments, permits, enforcement and so on.
A typical journey to the local shopping mall in terms of parking can be broken down like this: The sign outside the lot indicates the number of available spaces within. Upon entry to the lot, a video camera captures the vehicle registration plate and this image is time stamped. As we cruise around the lot, little green and red indicator lights show availability of parking spaces. When leaving the lot, another video camera captures the vehicle number plate and corroborates the paid for time with the actual leaving time and if correct the exit barriers are raised.
Equipment installed in smart parking garages includes CCTV cameras, payment terminals, real time monitoring systems, parking displays, meters, space availability sensors and entry/exit control equipment such as barriers. All of these devices, and the network connectivity gear running behind it, needs to be rugged, robust and reliable. If the system is down, the parking facility loses money.
"Due to its reliability and stability, the most common network protocol found in the parking industry is Ethernet," says Rich Link, VP of Operations at Control Systems, Inc. "However, the transmission distance limitation of 328 ft causes challenges as most devices in parking facilities are much further apart. In these instances we have standardized on Perle Ethernet Extenders, to give us the extra distance. They are small enough to install where needed, and their industrial quality means they can withstand the extreme operating temperatures they are exposed to here in the North East."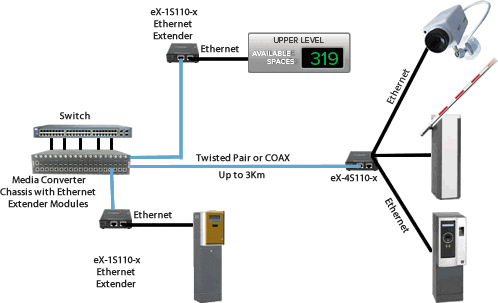 Perle Ethernet Extenders transparently extend 10/100/1000 Ethernet connections across copper wiring for up to 3km.
Link continues, "We have been using the Perle Ethernet Extenders for years now and as far as I can say, they are rock solid. We are very confident in specifying them in our projects."
About Control Systems Inc. http://www.control-systems-inc.com/
Control Systems, Inc. is the leader in design, sales, installation and service of parking systems and building security technology from Maine to Virginia. For more than 25 years property managers, municipalities, medical facilities, parking management companies, educational institutions and corporations have relied on Control Systems, Inc. for technological expertise, system design and outstanding service of our products. Read more to learn how we could help your transportation and security needs for your business