Golden Gate Bridge implements Perle Media Converters to enable Gigabit Ethernet
transmission over Multimode Fiber
The solution is a unique way of bridging the distance limitations of Multimode Fiber
The Golden Gate Bridge Highway & Transportation District required an urgent solution to allow their multimode fiber network running gigabit Ethernet to stretch across the length of the Golden Gate Bridge. However, it is generally accepted that the typical distance limits of gigabit over multimode is up to 550 meters. With the bridge spanning 2737m it simply could not reach from one side to the other. In addition, the bridge was implementing an electronic toll collecting system and removing all tollbooths and collectors from the bridge. The electronic toll collection system relies on video feeds and transmitting that information from the point of collection back to the core network. Network Administrators at the Golden Gate Bridge needed to increase bandwidth to transmit video feeds across the bridge, and overcome the distance limitations of multimode fiber.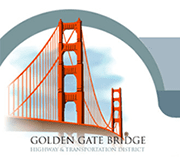 Tom Kaetzel, Communications Electronic Technician at Golden Gate Bridge Highway & Transportation District, got in touch with Perle Systems. To achieve long distance gigabit Ethernet over multimode fiber, Perle suggested a unique solution. By placing two Gigabit Fiber Media Converters back-to-back, each capable of a 2km reach, the Golden Gate Bridge would now have 4000m (4km) to play with and could easily cover the length of the bridge.
Dennis Oyama, Sales Engineer at Perle Systems explains, "The product solution that Golden Gate were looking for was not available in the market but, we figured we could double the fiber distance if we ran a couple of gigabit media converters that support a 2km reach back to back. Golden Gate were enthusiastic about testing the solution and it worked, fulfilling their distance requirements without loss of bandwidth."

Why Perle?
The search for the Golden Gate Bridge solution was focused on reliability and cost effectiveness. Golden Gate Bridge Highway & Transportation District needed the Media Converter solution to cover the distance across the bridge over multimode fiber without compromising bandwidth, and the Gigabit Fiber Media Converters met all of the fiber, distance and reliability requirements.
In the end, Perle was able to provide an easy-to-install solution that helped Golden Gate take a potentially complex project and make it a simple and effective set-up.
About Golden Gate Bridge Highways and Transportation District: http://www.goldengatebridge.org
Based in San Francisco, the Golden Gate Bridge, Highway and Transportation District operates the Golden Gate Bridge, and two public transit systems: Golden Gate Transit buses and Golden Gate Ferry. Last year, 38 million vehicles crossed the Golden Gate Bridge and over 9 million customers rode the transit systems.