Lulworth Estate use Perle Industrial Switches to network smart parking meters
18 new contactless smart parking meters installed throughout Estate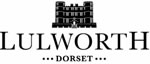 Lulworth Estate in the heart of Dorset, UK is considered by many as one of the most beautiful places on Earth. It encompasses 20 miles of rolling countryside and 5 miles of World Heritage Jurassic Coast. Durdle Door, Lulworth Cove and Lulworth Castle attract thousands of tourists, locals and holidaymakers every-year. To finance the Estate, which has been in the Weld family since 1641, festivals and weddings are held throughout the year and holiday cottages are rented out.
Several car-parks on the Estate are a further revenue stream that allow visitors to leave their cars in secure and safe car parks to explore the estate on foot.
The original cash only meters required regular emptying and were prone to vandalism. The Estate decided to upgrade the parking meters and turned to Voip Unlimited, an Internet Telephony Service Provider, for advice on installation and management of a new contactless infrastructure. Mark Pillow, Managing Director at Voip Unlimited explains, "In a contactless world, people don't carry cash. The problem with the existing parking meters was that they only took cash, and it had to be in the form of coins."
New solar powered Smart Parking Meters, with a backup 12vDC car battery, would replace the existing cash meters. Customers can now use their credit card on arrival at the car park and again when they leave. The customer's credit card is charged according to the duration of their stay in the car park.
Voip Unlimited was commissioned to network the parking meters within the Estate. Pillow comments, "The distances between the parking meters and the central office exceeded 100m, so we installed a Fast Ethernet fiber network. We needed to install some rugged switches within the parking meters which would be exposed to outdoor conditions. I knew the IDS Switches would be up for the job as I have used Perle products for years."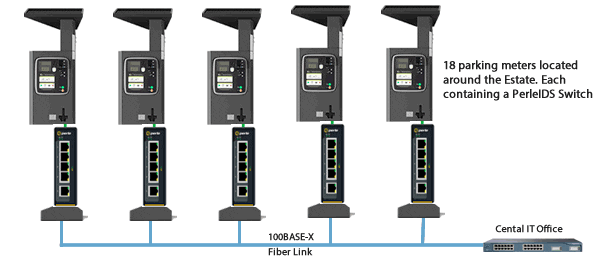 Perle IDS Industrial Ethernet Switches were installed in the smart parking meters and connected via 10/100 fiber to the Estate central office. The IT Network Administrator is now able to monitor and manage the status of the parking meters remotely.
About Voip Unlimited: http://www.voip-unlimited.net
Established in 2006, Voip Unlimited is a UK based Internet Telephony Service Provider (ITSP). Voip Unlimited specialise in voice communications over IP and business data solutions, delivered over its privately owned reliable network designed specifically for voice and without compromise. Through trading for over a decade, Voip Unlimited have established a strong reputation for reliable, secure services and tailored solutions whilst still being cost effective. Customers include Formula One teams, Healthcare Institutions and Government Agencies. As a central supplier within the Voice over IP market, Voip Unlimited are known for reliability, speed and quality with experienced departments able to design, deliver, install and support to first class standards.