Perle Systems Case Study
Ravenglass & Eskdale Steam Railway install Perle Ethernet Extenders for High-Quality VoIP
Routing VoIP calls over disused copper cabling enables crisp, clear telephone calls

While most people may prefer to email, send a text message, or communication on their favourite social media platform(s), nothing beats the speed and reliability of a simple voice conversion on the phone. Okay, I know that statement makes me sound old but, in business, it is true. Phones are an incredibly important channel for businesses to communicate with consumers, other businesses and work colleagues. (I'll spare you my rant on the dying art of face-to-face communication.) Doubtful? Ask your IT department how much time, effort and money are spent ensuring that their internal phone system is always up and running. Ask them what kind of trouble they would be in if the phone system failed. Trust me – they would be in the dog house.
So, "climb aboard" for a little story about a little railway that was struggling with their phone system.

Ravenglass is a small costal village in Cumbria England. It is the only coastal town in the Lake District National Park and is located at the estuary of three rivers. The stunning scenery in this part of the country attracts 19.17 million visitors each year.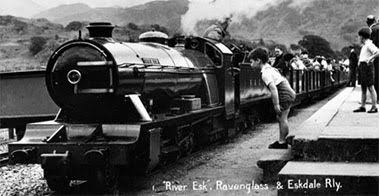 One of the "must-do" activities is to take a ride aboard the heritage miniature steam trains operated by the Ravenglass & Eskdale Steam Railway. It runs from Ravenglass, through 7-miles (40 minutes) of spectacular scenery, to Dalegarth for Boot at the foot of England's highest mountains. It is one of the oldest and longest narrow-gauge (15") railways in England, known affectionately as La'al Ratty meaning "little railway" in old Cumbrian dialect.
The staff at Ravenglass and Dalegarth for Boot are on the same network and need to be in near constant telephone communication regarding bookings, catering and general office administration. A third-party telco provider had set up a VoIP PBX system at both Ravenglass and Dalegarth so that internal calls, and calls from engineers at lineside locations along the railway, could be made over the internet between the two locations.
If you don't know anything about VoIP, it is a system that converts analogue phone signals into digital signals and runs your phone system on an IP network through your own IP address or the Internet, combining voice and data on one secure network. Sounds great, right?
It is. But, VoIP does have a few downsides that need to be planned for. First, you must worry about the possibility of Internet outages, service outages, and even power outages. And, if you are using a network that has limited bandwidth, packets can go missing causing breaks in conversation. These types of problems generally arise when connecting to rural areas or to those parts of the world where infrastructure bottlenecks still exist. Now, picture a national park. Rural? Limited internet infrastructure? Probably.
Stuart Marsh, a volunteer at the railway responsible for signaling, comments, "Sound quality on the phones was appalling. There was the most incredible echo on the line and it was as if the other person was talking in hushed whispers. The trains themselves are regulated by a radio signaling system, but if this fails we need to use the lineside phones instead. These phones are also used by engineers and by station staff. The emergency services also need to be contactable, should a crisis occur. Mobile phone coverage in Eskdale is patchy and some providers have no coverage at all. Something had to change. I recall receiving an email about a long-range Ethernet Extender which utilized existing copper cables and I had the feeling that this may just work."
There is a 10-pair cable running along the entire 7-mile route of the railway, with some pairs used for lineside telephony and some spare. The idea was to route the voice traffic over a spare pair(s) to ensure that communication would reach its destination with the crystal-clear sound quality that all telephone users expect in today's world.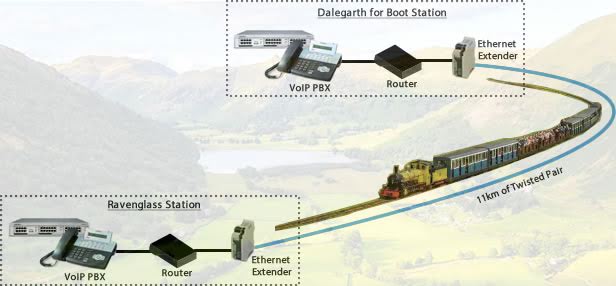 Perle Long-Range Ethernet Extenders transparently extend Ethernet data transmission up to 20km across single twisted pair, coax or any existing copper wiring previously used.
Stuart comments, "We bought the Extenders, installed them and they work. We use both channels available in the Perle units to increase our bandwidth, so we can make several calls at once. And they have been the answer to the problem. An absolute dream. This got me thinking about other applications for the disused lineside cable. It gets really busy in the summer-time and we have been looking at some portable ticket machines to speed things up a little bit. The issue is, they need to be able to access broadband…."
But that is a story for another day.
About Ravenglass & Eskdale Railway: https://ravenglass-railway.co.uk
The Ravenglass & Eskdale Railway is a combined family-owned business and voluntary organisation operating a heritage, narrow gauge steam railway on the Western Coast of the Lake District. The railway is surrounded by stunning views and walks and is based in Ravenglass, the only coastal village in the Lake District National Park. The business's awards include a Silver Green Tourism award, Coach Tourism's 2015 Heritage Railway award, Cumbria Tourism's 2015 Large Visitor Attraction of the Year award among many others.