Wednesday, August 9, 2017
Connected technology improves rural health care
Max Burkhalter
Modern medical technology is often taken for granted. Despite ongoing battles over the cost of health care, most people assume cutting-edge treatments are available to anyone who might need them. This is simply not the case - especially in rural regions where infrastructure development lags.
Non-urban hospitals offer services to roughly 57 million people living in the U.S., according to the American Medical Association. Due to their small budgets and high Medicare recipient intake levels, these country outposts must rely on government funding that, more often than not, fails to cover everyday expenses. This chronic underfunding forces many of these institutions to work with antiquated medical technology that negatively impacts patient outcomes. Consequently, individuals living in sparsely populated areas are generally less healthy than those based in urban areas. In fact, rural Americans are more likely to succumb to the top five leading causes of death in the U.S. - heart disease, cancer, unintentional injury, chronic lower respiratory disease and stroke - than city dwellers, according to recent data from the Centers for Disease Control.
While traditional medical research may eventually lead to a solution, others are taking a different approach. Technological innovators are developing devices and systems designed to address the issue of care availability in rural areas here and abroad - many of which center on the internet of things.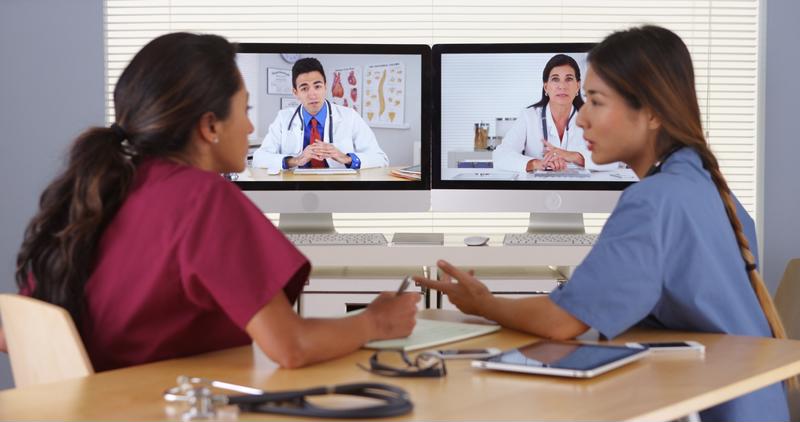 Telemedicine allows rural care teams and patients to connect with experts.
The rise of telemedicine
Telemedicine has gained immense traction in recent years, as care providers leverage cutting-edge technology to expand the reach of top-level health care experts sequestered in big cities. Advanced mobile devices lie at the heart of most telemedicine programs, Health Tech Magazine reported. For instance, a rural hospital might deploy web-enabled X-ray or magnetic resonance imaging devices capable of not only collecting essential patient data but also beaming that information to specialists offsite. This capability alone bolsters health care quality, as patients have access to experts who can offer the best treatment options.
In addition to diagnostic practices, telemedicine programs facilitate actual face-to-face interaction between patients and specialists via advanced video technology. These consultations can be particularly effective for the many individuals in rural areas who require behavioral health services. More than 18 percent of people living outside of metropolitan areas suffer from some form of mental illness, the Substance Abuse and Mental Health Administration found. Additionally, the suicide rate for adolescent men and women in these communities is higher than in urban regions, according to research from Ohio State University published in JAMA Pediatrics.
Telemedicine programs can help leaders in the behavioral health field address these issues, through simple video conferencing. For this reason, the market for telemedicine video software and services continues to grow at an astronomical rate. In fact, within three years, the market is expected to grow to more than $158 million, analysts at Tracticia projected.
Telemedicine not only offers obvious benefits to patients, but also helps rural hospitals generate new revenue. Patients that would normally leave these centers behind to travel elsewhere for care can now remain in their communities and access local services, whose reimbursements go back into nearby health centers. The methodology also puts money back into the pockets of individuals seeking care. For instance, the telemedicine program at the University of California Davis Health System helped 11,000 patients save more than $2.8 million in travel expenses, according to research published in the Value in Health Journal.
The benefits of telemedicine are, at this point, undeniable, which is why so many health care organizations are investing in the connected technology that makes it possible.
New frontier to explore
However, the relationship between the IoT fixtures and rural health does not stop here. Innovators are now looking past telemedicine and exploring new preventive care methods that could reduce hospital intakes. Rural vaccine delivery technology is, perhaps, the splashiest of all the new IoT-based preventive health care innovations. These drone-based systems give physicians the power to disperse life-saving vaccines to individuals living in isolated areas.
The Republic of Vanuatu in the South Pacific began testing this technology with the help of UNICEF back in June, sending vaccine-carrying unmanned aerial vehicles to citizens living on islands with no airstrips or accessible roads, Reuters reported. The trial is expected to last through 2018. If successful, this strategy could help extend the reach of world-class medical institutions.
As hospitals and other institutions embrace telemedicine and other IoT-based health care innovations in an effort to improve patient outcomes in rural communities, Perle will be there to provide the necessary connective infrastructure. Our networking hardware offerings, including console servers and Ethernet to serial converters, already play an integral part in health care operations across the globe. Connect with us today to learn more about our work in the industry.