Thursday, February 11, 2016
Industry 4.0 rising faster than expected - Is your network ready?
Max Burkhalter
Industry 4.0 has received plenty of attention lately, but the movement isn't one of those tech trends that gets lots of hype without having a significant impact on everyday operations. Instead, manufacturers around the world are experiencing a monumental technological shift that is disrupting operations while creating new opportunities for revenue creation. Advanced network systems, like industrial Ethernet switches, can provide a stable foundation for investments in technology ecosystems that support Industry 4.0, and manufacturers may want to move forward on bolstering the network soon as the new industrial revolution takes hold even faster than experts initially anticipated.
Looking at the breakneck pace of Industry 4.0 innovation
According to a recent report from IHS Electronics360, the Industry 4.0 movement has already expanded beyond what researchers expected when they initially coined the term in 2011. At the time, the idea of Industry 4.0 was a fairly large, ambitious theory about a future where industry is radically different than it was at the time. As of 2014, the first moves toward Industry 4.0 had been made, as tool-like big data, embedded device software and sensors had all advanced. Now, we have reached a point where Industry 4.0 innovation is accelerating to the point that the actual changes happening in manufacturing represent a huge shift in the industry.
"Industry 4.0 includes a variety of elements that will reshape how manufacturers operate"
At this point, the Industry 4.0 includes a variety of elements that will reshape how manufacturers get the job done, the report said. These capabilities run the gamut from even larger data sets that experts initially thought would impact industrial organizations to nuanced human-to-machine interactions like augmented reality and touch interfaces. Three-dimensional printing, advanced robotics solutions and more nuanced analytics capabilities are also changing the still-growing Industry 4.0 movement.
Understanding the challenges of Industry 4.0
Rapid technological change brings many potential problems. From cybersecurity issues to high capital costs creating fiscal risk, large industry changes create unique challenges. The news source pointed to integrating legacy hardware into new systems as one major difficulty facing manufacturers working with Industry 4.0. Many manufacturers have legacy equipment in place that still performs important tasks within the business. If these solutions are still efficient and get the job done well, then few manufacturers are going to work to upgrade them just because they don't fit naturally within an Industry 4.0 setup.
Terminal servers can help manufacturers overcome this challenge. One of the major issues facing legacy manufacturing technologies is their dependence on serial connections. Serial-to-Ethernet terminal servers eliminate this barrier by allowing you to switch from the serial setup to an Ethernet connection, streamlining data communications across the network and positioning manufacturers to maximize the value of legacy equipment within their operating environments.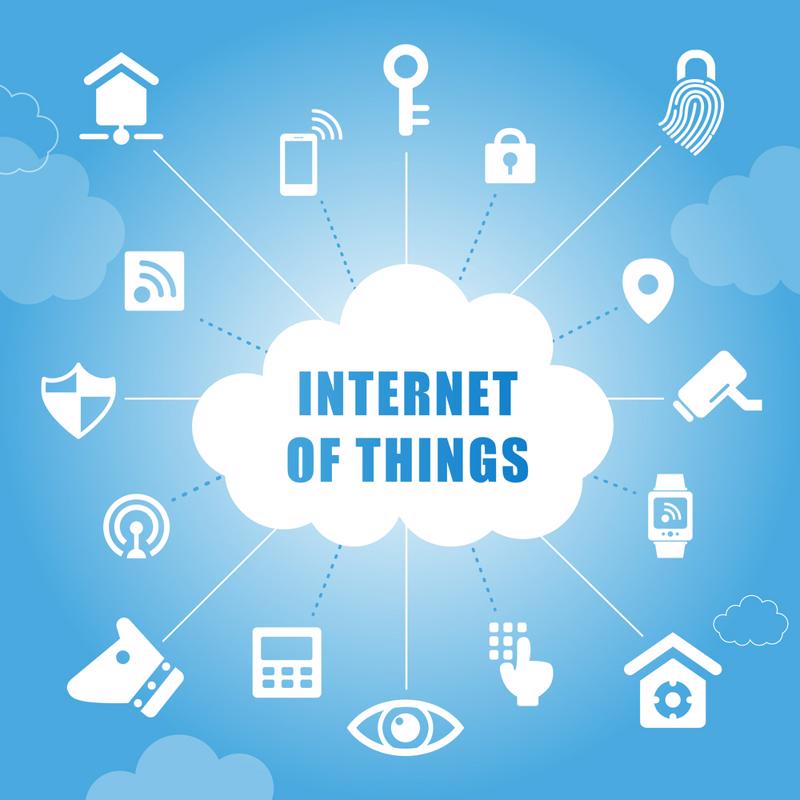 The IoT is among the trends driving Industry 4.0 innovation.
Networks establish a foundation for Industry 4.0
Interconnecting with legacy systems isn't the only way that network advances support Industry 4.0. The reality is that moving data between diverse types of equipment is a central component of the new industrial revolution. Whether you are considering advanced robots, more machine-to-machine communications or an Internet of Things strategy built around a large number of sensors, all of those strategies will require rapid and efficient data transit. In many cases, you will need to develop loss-less or near-loss-less network environments, and traditional Ethernet tools won't get the job done.
Industrial Ethernet solutions are specially designed to meet the demands of manufacturers - both in terms of withstanding the difficult operating environment and supporting challenging data transit requirements. Getting the right network equipment in place stabilizes your technologies and provides the foundation you need to build from.
Perle has over 516 models of Managed Industrial Ethernet Switches with the vast array of options including 10/100/1000 Ethernet, PoE, fiber and combo ports. Perle IDS Industrial-grade Ethernet Switches are ideal for the harsh environments found in industrial factory systems and outdoor applications.