12/30/2021
Top 5 IoT trends for 2022
Max Burkhalter
The Internet of Things (IoT) is a rapidly evolving ecosystem of connected devices driving innovation in all aspects of our lives. Everything from autonomous manufacturing robots to self-driving cars relies on this interconnected network of things to function. According to Fortune Business Insights, the IoT market is expected to grow from $381 billion in 2021 to over $1.8 trillion by 2028. As technology advances, the exponential growth of this field will drive massive changes across a multitude of verticals. To stay ahead of the curve, let's take a look at the top five IoT trends coming down the pipeline in 2022.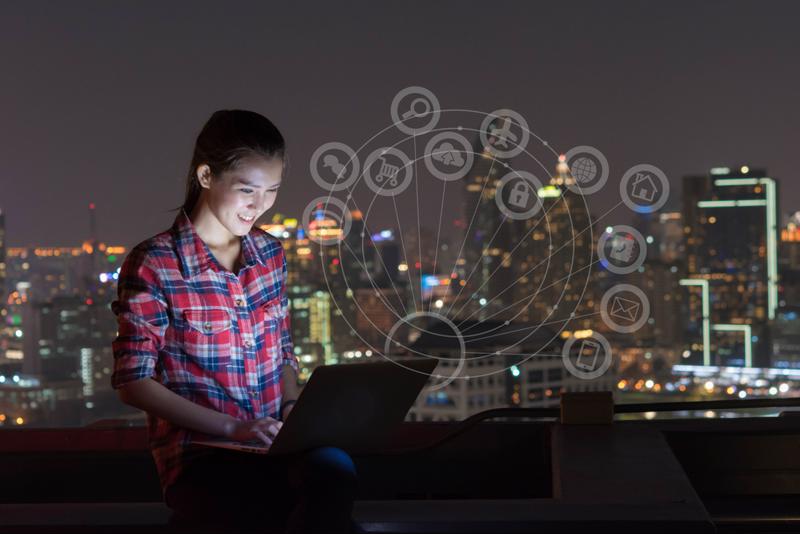 Concerns about cybersecurity
In 2022, the networking and telecommunications company Ericsson estimates there will be around 29 billion connected devices distributed globally, 18 billion of which will be directly related to IoT. While this massive increase in IoT devices will undoubtedly drive innovation within countless industries, it will also come with new threats and security concerns. In a complex network of connected devices, if one device is compromised, every other device it communicates with faces potential vulnerability. Additionally, the physical "things" comprising the IoT can be lost or stolen, requiring another layer of security to protect against breaches and attacks. Cybercriminals typically exploit these vulnerabilities by attempting denial-of-service attacks, which can expose valuable data, or by hijacking a user's computing power for botnet armies or clandestine cryptomining operations.
Wearable technology
As the capabilities of technology expand to encompass nearly every aspect of our daily lives, we will see more wearable devices integrated with IoT connectivity. From smart watches to virtual reality headsets, countless businesses are already taking advantage of this wearable tech trend. For instance, fitness and lifestyle companies have adopted these devices by utilizing integrated health monitoring options. The healthcare industry will also benefit from these advancements by tracking and monitoring patient medical data in real-time.
Advancements in healthcare
Especially during the pandemic, the healthcare industry has been at the forefront of IoT developments, utilizing wearable technology and telemedicine to diagnose and treat patients. These connected healthcare devices allow doctors to collect data on and provide medical attention to a greater number of patients without the risk of potential infection via in-person visits. Wearable medical devices can also be used to monitor heart rate and blood pressure or deliver insulin to patients with diabetes. Organizations within healthcare industry can also integrate IoT technology into wheelchairs, defibrillators and oxygen pumps to provide medical professionals with data that will help them better understand a patient's condition or operate independently to improve a patient's quality of life.
5G expansion
Successful IoT solutions require hyperconnectivity and minimal latency – two things that 5G technology enables. As cell companies and other organizations continue to expand 5G availability, these efforts will empower businesses to develop services that would have otherwise been uneconomical and logistically difficult. Looking forward to 2022, the faster data transfers, increased coverage and energy efficiency of 5G networks will become the primary catalyst of IoT growth and advancement, driving the future developments within the field. However, much like IoT devices themselves, 5G will come with additional security concerns. In conjunction with each other, 5G and IoT could reshape the way we think about cybersecurity in the future.
IoT in Industry and Business
The application of IoT technologies in business, also called the industrial internet, has massive implications for every aspect of industry, from manufacturing to customer support. In an increasingly automated world, the widespread use and decreasing costs of IoT technology allow smaller businesses to upgrade their infrastructure, increase efficiency and streamline operations. Manufacturers can automate repetitive processes with robotics or utilize machines fitted with IoT sensors to measure performance and predict optimal times for equipment maintenance. The data analytics provided by industrial internet technology can also be utilized in a variety of applications. For instance, companies can use customer data to personalize shopping experiences, field complaints and enhance the capabilities of CRM systems. These measures will improve the communication between businesses and customers, enrich the user experience and ultimately increase customer retention.
Perle can help your business stay ahead of these trends by expanding and developing infrastructures for IoT advancements. Read customer success stories to learn more.