Thursday, April 20, 2017
Where automation and mining meet
Max Burkhalter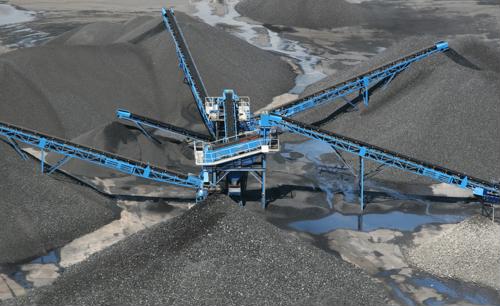 Organizations across myriad sectors continue to deploy technology associated with the Internet of Things. Currently, businesses manage roughly 2.5 million IoT devices worldwide, according to research from Gartner. This number is expected to top 3 million by the end of the year as more swap employee-driven workflows for automated, technology-rich alternatives. Surprisingly, mining companies are at the forefront of this shift, adopting cutting-edge tools that streamline field operations and improve worker safety. However, these efforts do not involve the simple distribution of wearables or the installation of run-of-the-mill backend systems. The firms navigating this industry have wholeheartedly embraced IoT technology, letting loose large-scale automated equipment capable of making an immediate impact.
Software takes the wheel
In 2011, the British-Australian mining magnate Rio Tinto announced plans to invest in automated trucks, The Wall Street Journal reported. Weighing more than 300 tons and capable of shuttling 290,000 kilograms of ore, these vehicles could operate with minimal human involvement. A single worker had the power to oversee multiple rigs via a central control panel, providing passersby with an almost surreal visual.
"There's nothing weirder than seeing one of these giant trucks with no driver in it," Karen Halbert, the spokesperson for Rio Tinto, told The Journal. "They even honk their horn before they back up."
The trucks made their debut in 2012 and have since integrated seamlessly into Rio Tinto operations across the globe. Approximately 73 of them traverse the West Angelas iron mine located in Pilbara, Australia, according to the MIT Technology Review. The vehicles operate 24 hours per day, hauling unrefined metal from excavation sites to processes facilities. Since its debut, the automated haulage system has saved the company 15 percent on transportation costs - the most significant expense for a majority of mining operations. How? The trucks require no breaks and do not have to navigate shift changes, allowing for uninterrupted productivity. Using advanced GPS technology, lasers and sensors, the vehicles navigate preset routes while engineers look on from a NASA-inspired operations center. However, the human employees tasked with programming the rigs normally take a set-it-and-forget-it approach and spend most of their time evaluating truck-generated data to look for further improvements.
Rio Tinto is of course not the only automated vehicle user in the industry. Competitor BHP Billiton, the largest mining firm in the world, adopted these devices in late 2012, Mining.com reported. Now, driverless rigs are mainstays on BHP sites throughout the globe.
However, the push for IoT-enabled transportation technology does not end here. Rio Tinto is looking to automate another key fixture used in the ore haulage process: the locomotive. After refinement takes place, freshly mined ore is shipped out via trains. Currently, humans operate these vehicles but the mining giant hopes to change that, Bloomberg reported. In 2012, Rio Tinto launched a $518 million program to develop and deploy automated trains capable of navigating 1,700 miles of track without human intervention. Again, the drive to embrace this unique form of IoT technology was rooted in cost. Software can more efficiently manage train controls, reducing the extra spend that comes from human-caused wear and tear. Unfortunately, the project has stalled to some extent. The firm planned to debut the train system in 2014 but was forced to move up deadlines when implementation kinks materialized. Still, Rio Tinto continues its quest to unleash an automated locomotive. Analysts on the outside looking in believe the firm should continue the project, despite the growing pains.
"This is the right way to address the cost-structure issues," Randal Jenneke, director of Australian equities for T. Rowe Price Group, told the publication. "There are some teething issues, but it's a blip in the long-term story."
Robot eyes in the sky
In addition to adopting land-based IoT solutions, companies like Rio Tinto and BHP Billiton are also looking into automated airborne equipment, The Wall Street Journal reported. Why? Drones offer immense cost savings, as they facilitate advanced surveying procedures, leveraging military-grade sensors and processors to map subterranean spaces before large-scale excavation has begun. BHP Billiton is currently testing drones at its copper mine in Escondida, Chile, the largest such operation in the world. The devices are equipped with sensors that can scan underground rock formations and calculate their worth. The company estimates that the technology could result in more valuable copper yields and, in turn, higher revenues. Drones sporting infrared sensors and telescopic zoom lenses hover above BHP Billiton's Goonyella Riverside mine in Queensland, Australia. Engineers use these craft to monitor blast sites and make sure they are clear of workers and operational assets prior to detonation.
Rio Tinto has been using similar technology since 2015 when it began deploying unmanned aerial vehicles at several of its aluminum, coal and diamond mines in western Australia, according to Mining Global. These IoT devices monitor open pits and help human workers more quickly complete surveys and other time-consuming tasks.
"In addition to adopting land-based IoT solutions, mining companies are also looking into automated airborne equipment."
Automated excavation on the rise
While automated transportation technology certainly opens up new opportunities for mining companies looking to achieve greater scalability and improve worker safety, other IoT-based mining innovations may prove more impactful. For more than half a decade, Rio Tinto has been testing self-operating drill assemblies, The Wall Street Journal reported. These connected rigs can analyze soil samples as they burrow into the ground and ping automated trucks to streamline ore deliveries. A single operator mans the controls and keeps watch as the device bores on.
While these devices are still in the testing phase, company officials say they hold great potential, according to Mining Global.
"We expect benefits both from a single operator being able to operate multiple drills and from flexible operation, which will be possible between operators and potentially between operating sites," Charles McHugh, the former manager of mining disciplines for Rio Tinto, told the publication. "We are also seeing improved drill utilization and consistency in drill outcomes, providing more accurate information for mine operation."
BHP Billiton has moved in a different direction, focusing on IoT equipment that eases the movement of ore between quarry and truck, The Wall Street Journal reported. Last year, the mining giant switched on a massive 656-foot automated conveyor system at one of its Australian operations. The fixture can move 10,000 metrics tons of rock per hour, significantly quickening operations. This and other IoT innovations are modernizing the mining industry, giving operators the ability to take advantage of fast-moving market trends, cut costs and facilitate safer field operations.
As this sectorwide march toward an automated, prosperous future continues, Perle will continue to provide the underlying networking infrastructure needed to support IoT-infused workflows. Our media converters and terminal servers play an essential role in mining and quarrying operations across the globe. Connect with us to learn more about our work within the industry and see how our connective solutions can benefit operators of all sizes looking to modernize their ore extraction and delivery workflows.