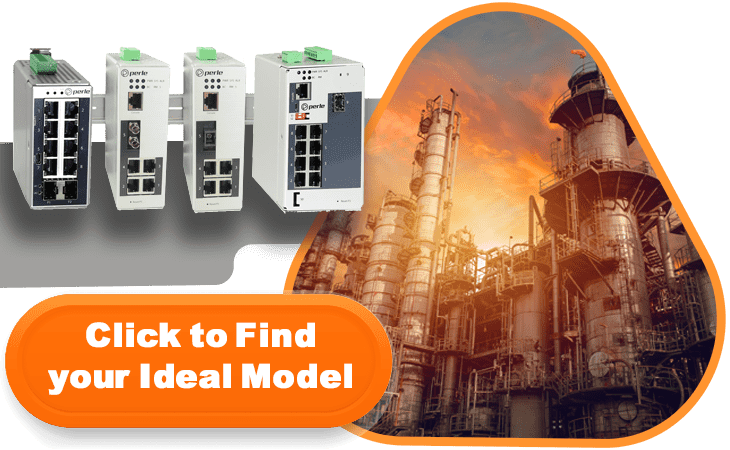 Industrial Ethernet Switches
with up to 5 Fiber Uplink Ports
Industrial-grade Ethernet Switches are specifically designed to connect devices in network environments that are subject to extreme operating temperatures of -40°C to 75°C, vibrations, and shocks. They are built to exceed the specifications of commercial switches with industrial safety certification and approval for hazardous locations, making them ideal for use at sites with harsh environmental conditions. Rugged, yet easy to use, Perle has over 500 models of Ethernet switches with fiber ports that feature Industrial Protocol Management support, superior reliability, advanced security, network redundancy, and easy installation and configuration.
Up to 10 ports with a combination of Copper and Fiber
Up to 5 Fiber ports
Speeds up to 2.5 Gigabit
RJ45 and SC, ST or SFP ports
Support for 90W PoE
Operate in -40°C to 75°C
Companies that use Perle Industrial Switches
Why Choose a Perle IDS Industrial Fiber Switch?

Perle Knows Industrial
We have been designing industrial hardware for Modbus and PROFINET to ethernet conversion for over 40 years. This expertise has been used to design the toughest Ethernet switches on the market. Perle IDS-300 and IDS-500 Switches with the PRO feature set can be managed via PLC, NMS, HMI or SCADA systems using PROFINET or Modbus TCP. In addition, MRP (IEC 62439-2) provides fast convergence in an industrial ring network topology.

Industrial Temperature-Grade
Many manufacturers claim -40°C to 75°C but use commercial parts that will fail in environments with extremely high or low temperatures. Integrated PCB circuits will overheat and under-rated connectors will not allow for proper contact between the device and cables. To prevent this, every component used in Perle Industrial Fiber Switches has been designed and tested to handle operating temperatures between -40°C and 75°C.

Standards-Based
To ensure that the system will operate with other Ethernet-enabled devices and IP applications, Perle IDS Switches use IEEE standards-based protocols. This also facilitates integration between industrial equipment and business office applications. These industry-recognized standards ensure the highest level of durability and adaptability under harsh environmental conditions.

Robust & Reliable
Perle only uses high-end components from leading western chip manufacturers to ensure product reliability. This enables us to proudly publish the high MTBF rates on the Hardware Specs for each product. And, we back-up this reliability with a best-in-class Warranty.

Technical Support
We have sales and technical support staff around the globe to support you. If you need help choosing the best DIN-Rail Switch for your application, we provide technical consultations by phone or email. And, even though Perle Industrial Switches are extremely easy to install and configure, post-sales support is easy to contact.

Trust
Perle has been providing reliable device connectivity solutions since 1976. That's over 40 years of experience that businesses around the globe have come to trust to deliver superior connectivity technology for mission-critical applications.
The quality of the Fiber Switch that you choose will affect the uptime of your network. Choose quality products. Choose Perle.