Installing IT Equipment in Locations where Failure is not an Option – a CPP Wind Engineering Case Study
Perle Systems and CPP discuss the importance of high-quality equipment installed in hard to access locations, specifically on the top and sides of skyscrapers.
PRINCETON, N.J. (Aug. 18, 2020) When installing IT equipment in remote or hard to access locations, quality and reliability are paramount. When at the bottom of the ocean, on the top of a mountain, or attached to the outside of a skyscraper, replacing broken-down equipment can be costly and time-consuming.
CPP Wind Engineering are experts in mounting technology on the top and sides of skyscrapers. One service they provide to architects, engineers, and developers is to determine how wind might impact safety or cause noise pollution. According to Tom Lawton, Senior Systems Engineer at CPP, "As building architecture becomes more complex, we are seeing an increasing number of features that, while adding to the aesthetics, can lead to unforeseen effects. These can range from wind-induced noise to local wind speeds which have, in some extreme cases, led to outdoor furniture being blown from high-rise buildings. At CPP, it's our job to find solutions to these problems."
To do this, anemometers, devices used for measuring wind speed and direction, and microphones are mounted to the tops and sides of buildings. The anemometers have both RS232 and RS485 serial ports. To access them over Ethernet, CPP use a Perle IOLAN Device Server pre-configured to push UDP packets back to an IP address at their office in the USA. Lawton explains, "Ethernet cabling is usually already in place so we can tap into the existing wiring of the building as opposed to running a separate custom serial cable, of limited length, to a computer on-site. By going straight into the building's LAN with the IOLAN, we can access it from anywhere in the world. As a bonus, we can connect both the RS232 and RS485 lines from the anemometer for redundancy, something which saved me a trip to Australia!"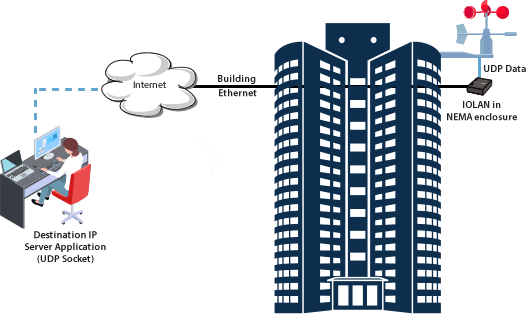 Mounting technology on the top and sides of a skyscraper is logistically very complex. The time-consuming preparation and installation can involve obtaining city permits, creating a safe public environment below, and high-risk manpower such as rope access specialists. This means that the anemometers, microphones and device servers that CPP choose to install must be made with robust and reliable components that will work, without failure, all the time. This is one of the reasons CPP chose the Perle IOLAN to be part of its toolkit. With certified components from leading western chip manufacturers, high MTBF rates that can withstand the harshest environments, an open-source platform, enterprise-grade security, and a lifetime warranty, the Perle IOLAN provides the peace of mind CPP need.
The wind speed, wind direction, and microphone recordings are measured and collected across multiple seasons to capture a range of weather conditions. With that data, CPP use computer or wind tunnel modeling to simulate the observed phenomena and develop solutions. Much of the equipment within the wind tunnel also has serial communication ports connected to IOLAN Device Servers to convert the data to Ethernet.
Lawton explains, "At the top of our wind tunnels, the traverse is a system for moving probes around in three dimensions. This uses MDrive intelligent stepper motors with controllers onboard. These have RS422 serial comms and are Ethernet-connected using IOLAN Device Servers. Underneath our tunnels, to simulate atmospheric flow, a system of "roughness" blocks emerge and retract from the floor, driven by stepper motors. We had a custom driver PCB made with an RS485 port to permit daisy-chaining 96 blocks together. At the RS485 end are the IOLAN Device Servers to convert it all to Ethernet. From any machine in the lab, we can control the traverse and the roughness-system. The flexibility and accessibility of Ethernet is the driver for me. I would encourage anyone buying a device with a serial communications port to partner it with a Perle IOLAN Device Server."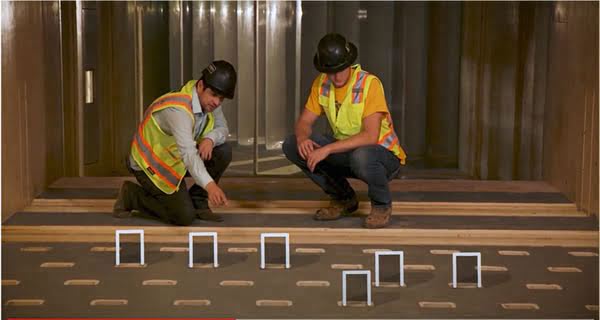 About CPP: – https://www.cppwind.com/
CPP was the first US company to provide wind engineering services to architects and engineers. Our founders helped create the tools and methods that remain the standards of the industry. Today, CPP provides industry-leading wind consulting services to architects, engineers, and developers around the world. When you know how wind affects our world, your buildings can be safer, more comfortable, and more efficient.
Contact
pr@perle.com