Perle sponsors Project Nixus in Rocket-Science Challenge
An IOLAN Device Server, Industrial PoE Switch, and Ethernet Extenders provide reliable device connectivity between the rocket, launch pad, and control room.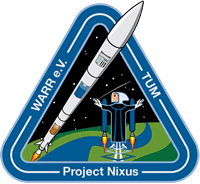 PRINCETON, N.J. (August 23, 2022) Perle Systems, a global manufacturer of secure device networking hardware, is pleased to sponsor a student group at the Technische Universität München (TUM) in their quest to build a liquid-fueled sounding rocket that will participate in international competitions to hit a target altitude of 30,000 feet (9144 m) as accurately as possible.
Scientific Workgroup for Rocketry and Spaceflight (WARR, Wissenschaftliche Arbeitsgemeinschaft für Raketentechnik und Raumfahrt), the largest student group at TUM, is focused on developing, testing, and launching experimental sounding rockets. Project Nixus, the latest challenge taken on by the motivated team of students, aims to design a liquid-fueled sounding rocket that will participate in student competitions, such as the Spaceport America Cup and the European Rocketry Challenge. Prizes are awarded for attaining specific target altitudes, the best technical report, the best design implementation, the most outstanding team cohesion and effort, excellence across the board, and flight precision.
Antonio Steiger, Electronics Team Lead for Project Nixus comments, We are designing the rocket and all the electronics from scratch. As you can imagine, there is a lot of complex equipment that communicates, monitors, and coordinates a successful launch and flight. Every component we choose must undergo careful consideration in terms of suitability and placement. In our quest to find some critical device networking equipment, we approached Perle for sponsorship.
Giving back through education and supporting students on their journey to learn is always a worthwhile effort. Therefore, we are pleased to sponsor WARR with a Serial Device Server,  Industrial PoE Switch, and long-range Ethernet Extenders,

The IOLAN SDG2 TX Device Server is used to facilitate RS485 data transmission and conversion between onboard rocket flight computers and the ethernet ground infrastructure and monitoring software. Steiger comments, "RS485 allows us to have, a simple wired connection from the rocket to the Chronos launchpad interface."
The IDS-108FPP Industrial PoE Switch supplies 30 watts of power to several IP cameras that monitor the rocket from the launch pad to provide important insights to the team of rocket scientists sitting in the ground control station.
Perle's TC Ethernet Extenders solve to problem of transmitting data over 1000m between the control room and the launch pad.
The system design is now complete and construction is underway. We invite everyone to follow their progress here.
About WARR Rocketry:  – https://warr.de/
WARR is a student group of the Technical University of Munich, which has now been in existence for 60 years. As the rocketry division, we are her oldest part and stand in the succession of significant projects, such as the construction of the first German hybrid rocket.