Perle Systems is a Finalist in the 2022 Network Computing Awards
IOLAN SCG Console Servers and IRG7440 5G Routers are up for Five Industry Awards
PRINCETON, N.J. (May 17, 2022): Perle Systems is excited to announce that it has been nominated and selected as a finalist in five categories for the 2022 Network Computing Awards. The Network Computing Awards recognize innovative products and companies that have strategically added value to the performance of an organization's network over the last year. The public and industry are the judges for these awards, and it is down to them to cast votes to determine the winners.
This year, Perle Systems are finalists in the following five categories:
Product of the Year: IRG7440 5G Router
New Product of the Year: IRG7440 5G Router
Hardware Product of the Year: IRG7440 5G Router
Network Infrastructure Product of the Year: IOLAN SCG LWM Secure Console Servers
Network Management Product of the Year: IOLAN SCG LWM Secure Console Servers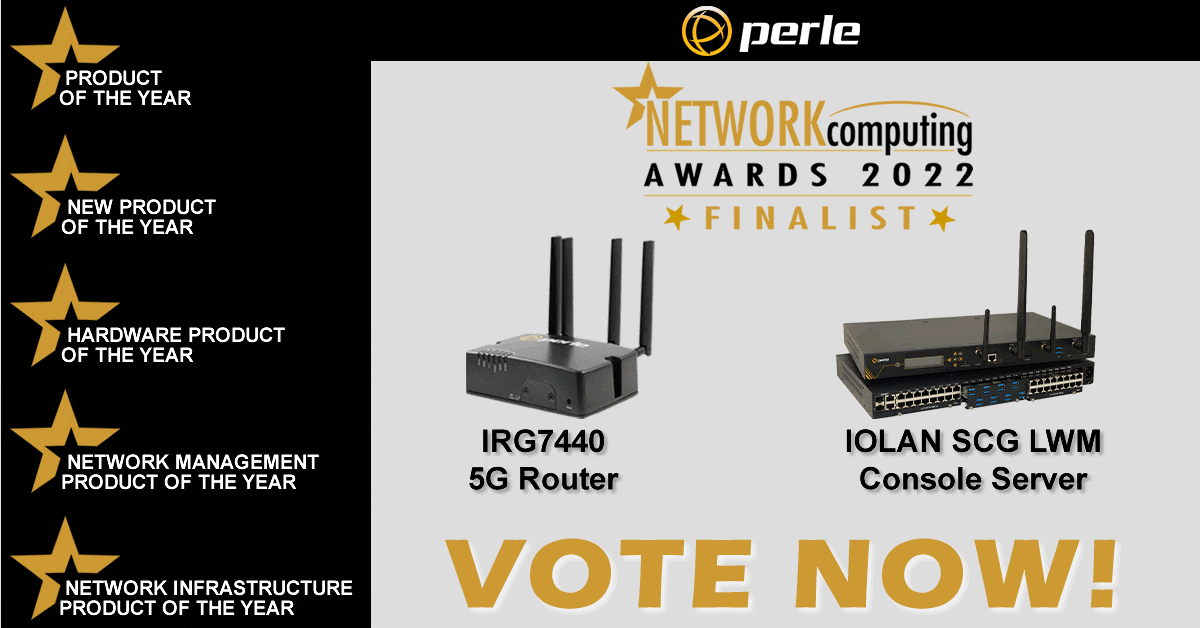 It's an honor to be finalists in so many categories.We are passionate about delivering the highest quality products to the industry, so it is wonderful to be recognized alongside some of the most esteemed companies in the world.
Earlier this year, Perle released the IRG7440 5G Router to provide 5G NR or CAT20 LTE coverage for IoT and M2M applications. In any side-by-side comparison, IRG7440 5G Router has more features and functionality than any comparable product in the market. And, because it is designed to serve as a critical component in the network, Perle does not charge any annual subscription or license fees to maintain operation, download software updates, or access features.
Perle has been a leading provider of Serial Console Servers for out-of-band-management (OOBM) of IT assets for over 20 years. The products have continually evolved because as data center infrastructures grow, they require multiple points of resiliency to deal with new points of failure or vulnerabilities. The modular IOLAN SCG LWM Console Servers provide multiple configurable options to ensure the availability of the specific console port type and network configuration needed (all in a 1U device) to manage everything in the rack, even when the network is down. IOLAN SCG Console Servers are designed with remote access monitoring, failover (Ethernet, LTE, and WiFi), and provisioning at the core. When deployed top-of-rack, or at a remote location, network engineers will have secure remote access to all equipment, as well as automated provisioning of configuration and firmware files.
How To Vote
Voting for the Network Computing Awards is now open until Monday 13th June 2022.
Click here to cast your vote(s) for Perle Systems. Winners will be announced on Thursday 23rd June 2022 at a ceremony held in London, UK.
About Network Computing – networkcomputing.co.uk/
Network Computing is the UK's longest-running publication dedicated to network management. It covers the technological, financial, regulation and compliance, and the human issues faced by organizations across all industry sectors as they try to operate secure, effective networks. Through publishing news, business and strategy articles, user profiles, independent product reviews, interviews, and comments, the magazine not only helps readers make better-informed purchasing decisions but also helps them to make the best use of the resources they already have.