Perle Receives 2023 Industrial IoT Product of the Year Award
IDS-710HP Industrial PoE Switch Honored for Exceptional Innovation
PRINCETON, N.J. (April 14, 2023): Perle Systems,a global manufacturer of secure device networking hardware, announced today that the IDS-710HP Industrial PoE Switch has received the 2023 IoT Evolution Industrial IoT Product of the Year Award from IoT Evolution World magazine. This award recognizes the best products powering the Industrial Internet of Things.
It is my pleasure to recognize the IDS-710HP Industrial PoE Switch, an innovative solution that earns Perle Systems the 2023 Industrial IoT Product of the Year Award.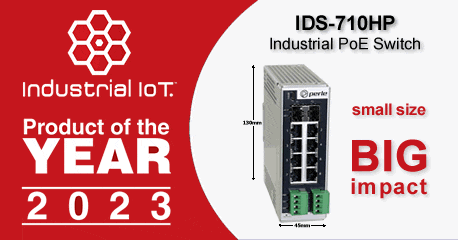 The IDS-710HP is a 10-port PoE Gigabit Switch with fiber and copper uplink ports. In addition to transmitting network data, the IDS-710HP has a built-in PoE injector to supply up to 100W PoE per port for a total of 450W across all copper ports. Classified as Layer 2 Power Sourcing Equipment (PSE), the switch will detect if connected devices are PoE-compatible and will automatically supply power. The IDS-710HP will not need to be replaced as PDs are updated because, as a fully 803.2bt compliant switch, it supports all PD types, classes, and topologies. The IDS-710HP also has the ability to reboot attached PDs remotely. A PD power reset from the IDS-710HP will save technicians a trip to the PD location, which may be in very difficult to access locations like exterior walls, ceilings, light posts, pipelines, and kiosks.
The solutions selected for the Industrial IoT Product of Year Awards represent the diverse range of innovation driving the multi-billion-dollar IoT market today. It is my honor to congratulate Perle Systems for their innovative work and superior contribution to the rapidly evolving IoT industry.
Full list of winners can be found here.
About Crossfire Media – www.crossfiremedia.com
Crossfire Media is an integrated marketing company with a core focus on future trends in technology. We service communities of interest with conferences, tradeshows, webinars and newsletters. Crossfire Media has a partnership with Technology Marketing Corporation (TMC) to produce events and websites related to disruptive technologies. Crossfire Media is a division of Crossfire Consulting, a full service Information Technology company based in New York.
About TMC – www.tmcnet.com
Celebrating 50th Anniversary in 2022.Through education, industry news, live events and social influence, global buyers rely on TMC's content-driven marketplaces to make purchase decisions and navigate markets. As a result, leading technology vendors turn to TMC for unparalleled branding, thought leadership and lead generation opportunities. Our in-person and online events deliver unmatched visibility and sales prospects for all percipients. Through our custom lead generation programs, we provide clients with an ongoing stream of leads that turn into sales opportunities and build databases. Additionally, we bolster brand reputations with the millions of impressions from display advertising on our news sites and newsletters. Making TMC a 360 degree marketing solution, we offer comprehensive event and road show management services and custom content creation with expertly ghost-crafted blogs, press releases, articles and marketing collateral to help with SEO, branding, and overall marketing efforts.