Perle wants your Vote in the 2023 Network Computing Awards
The IDS-710 Industrial Ethernet Switch and IRG7440 5G Router are finalists in three industry award categories
PRINCETON, N.J. (Apr 18, 2023): Having won the 2022 Network Management Product of the Year award with the IOLAN SCG LWM Console Server, Perle Systems is delighted to announce that it has again been nominated and selected as a finalist in three categories for the 2023 Network Computing Awards.
The Network Computing Awards recognize innovative products and companies that have strategically added value to the performance of an organization's network over the last year. The public and industry are the judges for these awards, and it is down to them to cast votes to determine the winners.
In 2023, Perle Systems are finalists in the following three product categories, open now for public voting:
New Product of the Year: IDS-710 Industrial Ethernet Switch
Hardware Product of the Year: IRG7440 5G Router
Network Infrastructure Product of the Year: IRG7440 5G Router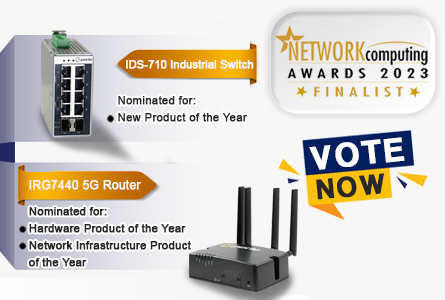 We are thrilled to be finalists in so many categories as we continue to develop high quality and innovative products for edge connectivity, it fantastic to see our dedication recognized alongside some of the most prestigious companies in the world.
In June 2022, Perle released the IDS-710 Industrial Ethernet Switch. This 10-port Gigabit switch is packed with enterprise grade functionality inside a tiny DIN Rail enclosure that will fit into any space. With support for both fiber and copper networks, advanced performance, and real-time deterministic network operation, these Industrial-grade Switches are designed to stand up to -40 to 70°C operating temperatures, surges, vibrations, and shocks found in industrial automation, government, military, oil and gas, mining, and outdoor applications.
Also released in 2022, the IRG7440 5G Router is the first product in its class that does not require an annual subscription (or license fees) to access features, maintain operation, or download software updates. This router provides fast, secure, and reliable 5G NR or CAT20 LTE coverage for a wide variety of IoT and M2M applications. It will function as a 5G Router and four-port 10/100/1000 Ethernet Switch in a single-box solution with IPv4 and IPv6 supported on both the WAN and LAN sides. Ideal as a 5G failover and out-of-band management solution, the IRG7440 Router can also be deployed in 3G or 4G environments to ensure a seamless transition to 5G over time. The extensive routing protocol support (RIP, OSPF, BGP-4, VRRP, IPv4, IPv6, OpenVPN, IPSec VPN, DHCP), zone-based firewall, 2 Factor Authentication, and remote authentication (RADIUS, TACACS+, LDAP) management, ensures the IRG7440 Industrial 5G Router will integrate seamlessly with any infrastructure to control access to devices in the field and protect inside networks from unauthorized users.
In addition, Perle Systems was also shortlisted in two additional categories where winners will be determined by a jury of experts and journalists: The IRG7440 5G Router is in the running for Bench Tested Product of the Year, while Perle's collaboration with the German Research Center for Artificial Intelligence (DFKI) is a finalist in the International Network Project of the Year category.
Vote now for Perle Systems at the Network Computing Awards.
Voting closes Tuesday, May 9th, 2023.
Winners will be announced Thursday, May 18th, 2023.
About Network Computing – networkcomputing.co.uk/
Network Computing is the UK's longest-running publication dedicated to network management. It covers the technological, financial, regulation and compliance, and the human issues faced by organizations across all industry sectors as they try to operate secure, effective networks. Through publishing news, business and strategy articles, user profiles, independent product reviews, interviews, and comments, the magazine not only helps readers make better-informed purchasing decisions but also helps them to make the best use of the resources they already have.