Voting is open for ICT Products of the Year Award
The Perle IRG7440 5G Router has been nominated in the Network Infrastructure Category
Bremen, DE. 19, April 2023: The editorial team at connect professional (formerly Funkschau) magazine has launched its readers' choice "ICT Products of the Year" competition for the 15th consecutive year. Products across software, hardware, and services categories from IT and telecommunications sectors are put to a public vote. Perle Systems is thrilled to announce that the IRG7440 5G Router has been nominated in the category 'Network Infrastructure'.
Perle is proud to be shortlisted in the ICT Products of the Year Awards. This nomination recognizes our commitment to delivering quality products through an understanding of customer requirements across a diverse set of environments and industries.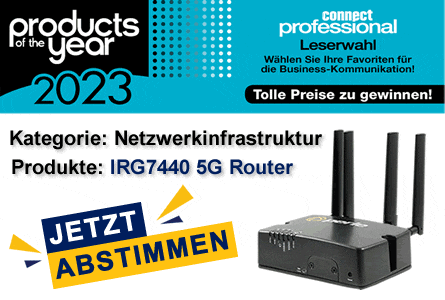 The IRG7440 5G Router is the first product in its class that does not require an annual subscription or license fees to access features, maintain operation, or download software updates. It provides fast, secure, and reliable 5G network connectivity where wired options are difficult to deploy, or backup is required. This ultra-low-power, rugged, high-performance router will function as a 5G Router and four-port 10/100/1000 Ethernet Switch in a single-box solution. And, the extensive routing protocol support (RIP, OSPF, BGP-4, VRRP, IPv4, IPv6, OpenVPN, IPSec VPN, DHCP), zone-based firewall, 2 Factor Authentication, and remote authentication (RADIUS, TACACS+, LDAP) management, ensures the IRG7440 5G Router will integrate seamlessly with any infrastructure to control access to devices in the field and protect inside networks from unauthorized users.
How To Vote
Voting for the ICT Product of the Year 2022 Awards is now open until May 28, 2023.
Cast your vote for Perle Systems now.
About connect professional – www.connect-professional.de
connect professional is the cross-media specialist for all topics relating to business IT, telecommunications, and digital transformation. The editorial team offers ICT decision-makers, system houses and ICT resellers valuable business information and background knowledge in the areas of telecommunications and information technology in print editions, special publications, with the website connect-professional.de as well as congress and trade fair events.