April 25th, 2017
Protect RS232 Devices from Transient Surges, Lightning Strikes, Ground Loops & Noise
Perle launches RS232 Serial Interface Isolator
NASHVILLE, April 25th, 2017 — Perle Systems, a global provider of serial device networking hardware, today announces the launch of RS232 Serial Interface Isolators.
Known for its very low signal power, the RS-232 interface is an asymmetric voltage interface with common signal ground, connected to the grounded chassis housing, for all signals. This results in very little immunity to interference and a maximum range of 15 meters. Using the PSM-ME-RS232/RS232-P Serial Isolator, considerably higher immunity to interference can be achieved.
John Feeney, COO at Perle Systems comments, "RS232 communication is very susceptible to EMI, RFI, transient surges, ground loops and noise interference. This can cause real issues when transmitting critical data in a laboratory, factory, retail or industrial system."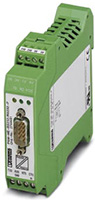 The PSM-ME-RS232 Serial Isolator effectively protects your RS232 devices and data transmissions by isolating the TX/RX data channels and the RTS/CTS control lines. Their high-grade 3-way isolation also protects expensive termination devices against damage.
Learn more about Serial Isolators.
Contact
pr@perle.com