April 27th, 2017
Convert RS232 to RS422 or RS485
Perle launches RS232 to RS485 Serial Converter with electrical isolation
NASHVILLE, April 25th, 2017 — Perle Systems, a global provider of serial device networking hardware, today announces the launch of Serial Interface Converters.
The PSM-ME-RS232/RS485-P Serial Interface Converter bi-directionally converts RS-232 interface signals to the RS-485 and RS-422 standards.
"Many industrial and commercial environments require the manipulation of serial data transmission in some way," comments John Feeney, COO at Perle Systems, "This new product allows our customers to convert serial data signals without interfering with the integrity of the data itself."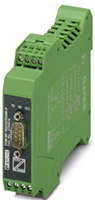 The PSM-ME-RS232/RS485-P Converter supports 4-wire balanced full duplex communication, or 2-wire half-duplex. This makes it suitable for most applications, including industrial, commercial and any general office computer device. Transmission speeds of 1.2 kbps up to 115.2 kbps can be applied to point-to-point and point-to-multipoint networks.
Learn more about Serial Interface Converters.
Contact
pr@perle.com