March 04, 2019
Perle launches Industrial DIN-Rail Power Supplies
Industrial-grade DIN Rail mountable power supplies provide reliable AC to DC and DC to DC power conversion in industrial environments
NASHVILLE, TN — March 04, 2019 — Perle Systems, a global provider of advanced Device Networking Hardware, today announced the availability of Industrial-grade DIN Rail Power Supplies.
The industrial sector accounts for a third of all US energy consumption, with a similar picture reflected worldwide. Perle now offers a complete range of rugged AC to DC and DC to DC Converters built to meet the high stability and efficiency expectations of industrial, machine automation and process control environments. There are over 90 models, with a wide variety of features and functions, to choose from.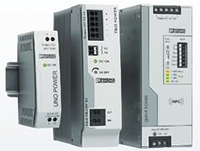 4 to 56 V DC Adjustable Output Voltage Ranges
.5 to 40 Amps
25 to 960 Watts
Single Phase, 2-Phase or 3-Phase AC to DC Converters
DC to DC Converters
Industrial operating temperatures of -40°C to +70°C
Protections: Short-circuit, Overload, Overvoltage, Over-temperature
High efficiency and no-load power consumption
High MTBF (Mean Time Between Failure) values ensure maximum availability
DIN Rail mount narrow housing saves space in the control cabinet
Dynamic boost provides additional power for starting difficult loads
Preventive function monitoring reports critical operating states before they occur
SFB Technology can be used to quickly and reliably trip miniature circuit breakers and fuses connected on the secondary side
Adjustable signaling thresholds for preventive function monitoring, output voltages, and output characteristic curves to meet specific requirements
Industrial Approvals and Certifications: ATEX and ANSI/ISA 12.12 Class 1 Division 2, Medical, Railway, Shipbuilding
John Feeney, COO at Perle Systems comments, "Our aim is to ensure the maximum availability of your system. We are confident that we have the right power supply to meet the needs of every industrial application."
Find out more about Industrial-grade DIN Rail Power Supplies.