June 14, 2016
Perle Expands Industrial Ethernet Portfolio with Managed Switches
5-port Industrial Ethernet Switches with "fully loaded" features now available
NASHVILLE, TN - June 14th, 2016 — Perle Systems, a global manufacturer of secure device networking hardware, today announced the launch of an extensive new range of Managed Industrial Ethernet Switches. The first phase of the launch encompasses 128 models of IDS-200 and IDS-300 five-port switches.
In April 2014, Perle expanded its product line and entered the industrial switch market with a promise to "offer every conceivable model".  As of today, Perle offers over 340 different Industrial DIN Rail Switches for a variety of application environments.
The IDS-200 Industrial Switches come with a Comprehensive Management Feature Set including management VLAN, QoS, RMON, N:1 port mirroring and local alert log.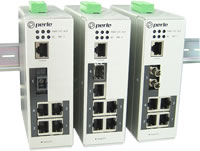 To meet the needs enterprise-grade level environments, where additional security and network integration functionality is required, the IDS-300 Managed Switches come with the PRO Feature Set which also includes:
"It is our aim to deliver the most superior Managed Industrial Ethernet Switch in the market," commentsJohn Feeney, Chief Operating Officer at Perle Systems
Perle Managed Industrial Ethernet Switches enable configuration, monitoring and management of industrial LAN's providing advanced performance and real-time deterministic network operation. These Industrial-grade Switches are designed to stand up to extreme temperatures, surges, vibration, and shock found in industrial automation, government, military, oil and gas, mining and outdoor applications. They are rugged fan-less switches that are hardened to provide superior reliability in -10 to 60°C, or harsh extended operating temperatures from -40 to 75°C.
Perle only uses high-end components from the leading chip manufacturers to ensure the highest level of durability and reliability. In addition, all units have a corrosion resistant aluminum case and dual redundant power input with reverse polarity and overload protection. 
Since entering the Industrial Switch Market, Perle has sold to numerous high profile customers such as NBCUniveral, SolarCity, Deutsch Windtechnik and Rockefeller Center.
Contact
pr@perle.com