November 29, 2018
Perle launches Industrial IEC 61850-3 and HazLoc Media Converters
Industrial Copper to Fiber Converters that extend and convert 10/100/1000Base-T data over 100/1000Base-X fiber in electric utility, substation and hazardous location environments.
NASHVILLE, TN — November 29, 2018 — Perle Systems, a global provider of advanced Device Networking Hardware, today announced the release of Industrial DIN Rail Media Converters certified to IEC 61850-3 and IEEE 1613 electric power substation environmental standards.
The Electric Utility market is a tightly regulated space. Equipment must conform to the demanding environment conditions found in these locations such as electric and magnetic fields, electrostatic discharge, conducted high frequency electrical transients, high energy power surges and ground potential rise during ground faults.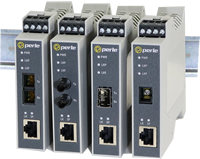 John Feeney, COO at Perle Systems comments, "The network architecture found in substations, and environments classified as HazLoc, is highly distributed and must generally utilize both copper and fiber cabling. To integrate these two different cable types, a properly designed and certified Industrial Media Converter is required."
First, data transmitted over fiber optic cable is completely immune EMI noise. Using a Copper to Fiber Converter to interconnect the CAT5/6/7 cabling to multimode fiber inside the plant ensures reliable data transfer.
Perle SRS Industrial Media Converters are certified to meet the specific environmental specification standards that have been adopted for these environments. IEC 61850-3 outlines a complete framework for substation automation including communication networks, EMI immunity and environmental requirements. IEEE 1613 defines standards for the design of equipment to be used in substations and industrial sites. The SRS Media Converters qualify as IEEE 1613 Class 2 Error-Free Devices.
In addition, Perle SRS Industrial Media Converters are designed to operate in hazardous industrial locations (HazLoc). With numerous certifications, including ATEX Class 1 Zone 2 and ANSI/ISA 12.12.01 Class 1 Division 2, they are approved for safe and reliable operation in locations where flammable gases, liquids or vapors are handled, processed or used.
Perle has specifically designed features for the SRS Industrial Media Converters that make them easy to integrate and install in industrial environments.
The compact chassis easily mounts on a DIN rail or inside distribution boxes.
Input power voltage can be supplied using two redundant terminal blocks or through the optional TBUS DIN Rail Bus connector system that transmits voltage across the bus. This triple redundant power input support provides up-time peace of mind.
With operating temperature support of -40C to +75C (-40F to +167F), these media converters are ideal for use with industrial devices subjected to harsh environments and severe temperatures.
All Perle Media Converters have an on-board microcontroller which deals with error detection and recovery by continuously monitoring the status of the links connected to its transceiver ports. If there is a break or failure in the link, both end devices become aware and react accordingly.
This new product launch incorporates 15 models compatible with 10/100/1000Base-T Ethernet with SFP, dual fiber ST/SC or single fiber SC/ST connectors. Find out more about Perle SRS Industrial Media Converters.
Contact
pr@perle.com