Perle Systems Technical Notes
Avoiding common mistakes in fiber-optic network deployment - Part Two
This is the second piece in a three-part series on major problems that can occur when businesses rush to deploy a fiber-optic infrastructure. Read Part 1 or Part 3 now.
Problem #3: Failing to let the technology do the work
Investing in a Media Converter capable of auto-negotiation, meeting the 802.3u standard, can dramatically improve network performance, save time and reduce frustration.

Every time network switches need to transfer data, a negotiation process occurs. Essentially, each switch involved in the transaction communicates its capabilities, such as 10 Mbps, 100 Mbps or both; or that it can handle full-duplex, half-duplex or both. With auto-negotiation the transmission is made using the highest common performance metrics. Without auto-negotiation, this process cannot be completed, and the network will revert to slower methods to transmit data. As a result, deploying media converters capable of auto-negotiation will help optimize performance and streamline the migration process.
Problem #4: Ignoring the benefits of network management
At first glance, network management gives off all of the appearances of a luxury. But network management tools can improve performance and help optimize the network to such an extent that it is a critical consideration for organizations migrating to a fiber network.
By using Managed Media Converters with support for IPv6 and standards based tools, such as SNMPv3, Telnet, SSH, HTTPS and AAA security, enterprises can centrally manage fiber to Ethernet links. This ensures that the IT personnel are promptly alerted of all critical events that will assist them in resolving any fiber network problems.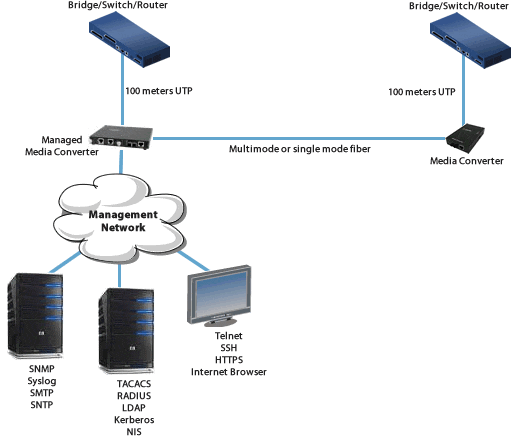 SSH:  Managing network equipment via secure sessions has become a key weapon in protecting enterprise infrastructures. Offering Telnet access is common amongst media converter vendors. However, the information passed on the network between a telnet workstation and the target network gear is in the clear and available to anyone with simple tracing capabilities. Secure Shell (SSH) encrypts the information to and from the client.
SNMPv3:  Large scale NMS systems, such as CiscoWorks and HP OpenView, support a secure form of Simple Network Management Protocol ( SNMPv3 ). Unlike Version 1 and 2, SNMPv3 provides capabilities such as user authentication, authorization and packet encryption. Authentication is checked through the SNMP User IDs and passwords.  And, a powerful AES/DES encryption algorithm is used for all the information packets.
HTTPS:  Web pages served from network gear can be in the form of a simple HTTP format or, secure pages can be offered using HTTPS. HTTPS is the same method used by online banking web sites. It is very secure and ensures optimal privacy on the network.
AAA Security: To install a network device that can be accessed over IP and does not support the existing network security system leaves you exposed to hackers.   The simple User ID / password implementation provided by some media converter vendors is not enough. Only Managed Media Converters that utilize the existing authorization schemes in the enterprise, such as TACACS+ or RADIUS, should be deployed to control access to the device, authorization levels and maintain an audit trail.
IPv6 address support:  Choose Managed Media Converters that will provide your organization with investment protection to meet this rapidly growing standard.
Detail Port Statistics: To assist in troubleshooting copper and fiber links, a Managed Media Converter with an extensive list of ingress and egress counters for both copper and fiber ports can alert a network administrator to take action. The number of good frames versus bad frames, excessive collisions, etc on the links can indicate performance issues that may have otherwise gone unnoticed.
The features listed above provide the same level of protection used when managing corporate firewalls, switches and routers.  It should be expected that this protection is also available in your Managed Media Converter.
Conclusion – Part 2
These are the second set of six issues that companies could face if they rush the process of fiber-optic migration. These problems could have a financial and operational impact on network performance and should all be taken into consideration when adopting a new optical infrastructure. The final part of the series will address monitoring link integrity status and choosing the right platform.