Perle Systems Case Study
Bielefeld University place Perle IOLAN Console Servers Top-of-Rack in Data Centers
Seamless Out-of-Band IT Infrastructure Management for 24/7 Network Uptime
At Bielefeld University, more than 25,000 students and 3,100 faculty expect the IT network infrastructure to be accessible at all times. And, as the University continues to improve its existing buildings, and construct new facilities, the Bielefelder IT-Servicezentrum, (Bielefeld IT Service Center - BITS) is expected to maintain uninterrupted access to the systems, applications, and information on the network.
The University has its IT equipment dispersed in multiple 'Tech Rooms' throughout the campus. However, as issues arose, IT staff had to be physically in front of the server, switch, or application that required attention. This on-site management of the network became increasingly complicated and time-consuming.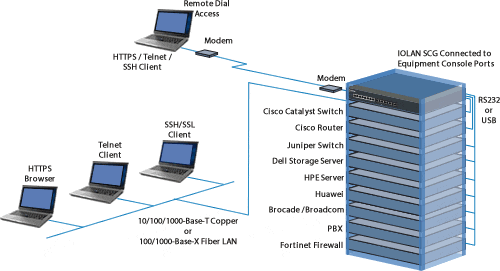 With the objective of being one of the most modern data centers in Germany, BITS Network Engineers decided to implement an Out-of-Band Management (OOBM) Network.
This was achieved by installing IOLAN Console Servers at the top of each rack in the Tech Rooms. This gave BITS Network Engineers out-of-band console port access to all network components, including Cisco and HP switches, WLAN controllers, and VPN servers, as if they were locally connected through a direct connection. Now, if a network failure occurs, equipment can be rebooted remotely. And disruption and downtime is minimized due to better visibility of the physical environment and status of equipment.
"Above all, we are impressed by the stability of the IOLAN Console Servers during operation. As far as I can remember, the IOLANs have been running without a reboot ever being necessary. We are very satisfied." - A member of the BITS Network Team
About BITS:  – The Bielefeld IT Service Center (BITS)
The Bielefeld IT Service Center (BITS) is one of the most modern data centers in the German university landscape and is the university-wide, central service provider for services in the field of information and communication technology. With its IT services, BITS supports around 30,000 users in the areas of research, teaching, studies, and administration.