Serial Console Servers
Secure Data Center & IT Infrastructure Manager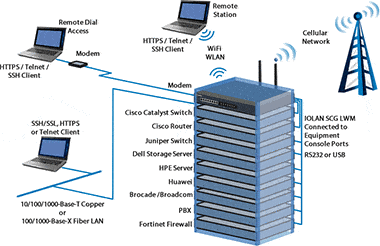 AConsole Server, enables secure remote console management of any device with a serial, USB, or Ethernet console management port, including Cisco routers, switches and firewalls, Servers, PBXs and more. It is a single hardware solution that provides a secure alternate route to monitor IT, networking, security and power devices from multiple vendors. While software management tools can be used for performance monitoring, and some remote troubleshooting, they only work when the network is up. A Console Server, commonly used as an Out-of-Band Management Solution, ensures that on-site infrastructure is accessible, even during system or network outages. They can be used to reconfigure, reboot and reimage remotely across the internet or WANs. Disruption and downtime are minimized by providing better visibility of the physical environment and the physical status of equipment. This ensure business continuity through improved uptime and efficiencies.
IOLAN SCG & SCR Secure Console Servers
A Perle IOLAN Console Server gives your data center managers, IT professionals and network operations center (NOC) personnel the only serial console server on the market with all of the advanced security functionality needed to easily perform secure remote data center management and out-of-band management of IT assets from anywhere in the world. They are also the ideal solution for large distributed enterprises with multiple branches such as banks, insurance companies, hospitals, utilities, retail, and schools, that may not have IT staff on-site.
18, 34 or 50 Console Management Ports
Modular design supports RS232/422/485 RJ45 and USB 3.0 Interfaces
Dual 10/100/1000 Ethernet connection for always-on redundant copper and SFP fiber network access with automatic failover when primary link goes down
Optionally integrated LTE Cellular (with failback support), WiFi or V.92 modem for multiple alternate access methods when the network is down
ZTP & PerleVIEW Central Management Software simplifies configuration, administration, monitoring, and troubleshooting.
Advanced AAA security and SSH/SSL encryption to meet all data center compliance policies and seamless integration with your existing IT & network management systems
Full IPv4/IPv6 routing capabilities with support for RIP, OSPF, and BGP protocols
Dual AC or Dual Feed 48vDC Power for Fault-tolerant uptime
Select the Console Server with the Out-of-Band access method of your choice:
Companies that use Perle Console Servers
Why Choose a Perle Console Server?

Secure Centralized Management
Perle's cloud-based centralized management solution puts all your network and IT infrastructure into a single application and provides secure reliable access and visibility during normal operations and critical network failures. Scalable to suit any business requirement, Cloud Centralized Management reduces human error and guarantees repeatability.

Cisco Compatible Console Server
Perle Console Servers are compatible with Cisco switches, routers and firewallls. Straight cabling to Cisco devices saves time and money during install.

Reliable Console Server
Choose a Console Server that is made from certified components with high MTBF rates that can withstand the harshest environments. An open source platform and enterprise grade security ensures you have the best value in one box. In addition, we provide the best-in-class Lifetime Warranty.

Secure Console Server
Perle Secure Console Servers support all AAA security services used in corporate networks, including TACACS+, RADIUS, LDAP, Kerberos, NIS and RSA. And, to further protect ID's and passwords from someone 'snooping' on the network, SSH/SSL, IPSec VPN, SNMPv3, Telnet and HTTPS secure management sessions are supported.

Technical Support
If you need a technical consultation (by phone or email) to help you choose the best Console Server for your application, Perle is easy to reach and has technical engineers you can talk to. We have sales and technical support staff around the globe to support you when you need it.

Trust
Perle has been providing reliable device connectivity solutions since 1976. That's over 40 years of experience that businesses around the globe have come to trust to deliver superior connectivity technology for mission critical applications. If network uptime is vitally important to your success, choose quality products. Choose Perle.
Console Server Applications