Perle Systems Case Study
Bally Technologies utilizes Perle Serial to Ethernet Terminal Servers to offer High Availability (HA) in their latest ACSC™ Virtualization Platform

The casino gaming landscape has significantly changed in the last decades. Originally, slot machines were installed in casinos in order to entice casual gamers. This proved a sensational success. Slots are the most profitable game in town today, bringing in more than 60% of the annual gaming profits in the United States1.
Bally Technologies, the oldest slot manufacturing company in the world, and inventor of the first slot data system, has been credited with many technological milestones for the global gaming industry since 1932. One area of expertise is their specialized system-based hardware and software products that provide casinos with a wide range of marketing, data management, accounting, security, and software applications and tools to more effectively manage their operations. This includes Bally's ACSC™ product line that manages casino, slots, and hospitality data to improve customer service time and increase patron satisfaction. The real-time integration of these systems lets casinos structure an unmatched range of custom-tailored bonus programs.
The amount of data that is continuously being transmitted from each slot machine to the central ACSC server and back is phenomenal. Therefore, it is critical that the technology in place stays current. The Bally ACSC slot floor system communicates with the gaming floor slot machines over serial (fig 1). In the typical 1st generation system, Pentium-based WindowsTM Servers, housed in a closet on or near the slot floor, contained RS485 serial port cards. The RS485 interface enables configuration of multidrop communications to maximize the number of slot machines that can communicate with each server in the IT closet. In this case, each serial port could communicate with up to 20 slot machines on the slot floor resulting in each server communicating with up to a total of 480 slot machines. In larger casinos the total number of Servers hosed in the IT closet would increase in proportion to the number of slot machines.
Even though this design meant that a lot of the system hardware was in an environment not ideal for housing IT equipment, it worked for many years and was extremely successful. However, for all IT hardware, end-of-life comes too soon. Anticipating that it would be difficult to get spare parts Bally started the relatively straight forward project of selecting new servers to roll-out onto the casino slot floors. Bally chose the iSeries of IBM servers but, it quickly became obvious that it would not be possible to simply replace the old servers for new because the iSeries could not support serial cards.
Bally contacted the supplier of the RS485 serial cards for ideas and learned about Serial to Ethernet Terminal Servers. This solution came with numerous unexpected bonuses. By using terminal servers on the slot floor, Bally could simplify the IT structure and create a more dynamic and flexible virtualization platform. Virtualization would allow Bally to offer High Availability (HA) to their customer base by:
Reducing capital expenses through server consolidation
Improving operating expenses through automation
Minimizing lost revenue by reducing both planned and unplanned downtime
"We were really excited about this," says Mike Grawl, Director of Technical Services at Bally Technologies. "Being able to offer High Availability to our customers is ground-breaking and unprecedented in our industry."
However, when Bally connected the terminal server in place of the PC in the lab, they saw a 30% loss in throughput! This was unexpected and unacceptable. Any upgrade of the ACSC system would require an increase in communications speed. Bally stipulated that the new solution must at the very least meet, if not exceed, the performance of the 1st generation system. And, to enable an easy upgrade path, they wanted any new hardware to support their current comport based software application. So, Ken McCord, Lead QA Analyst at Bally Technologies, researched alternative solutions online and came across Perle Systems.
"The Perle Engineers worked with us extensively to find and optimise the solution in order to meet and exceed communications speeds," says Ken.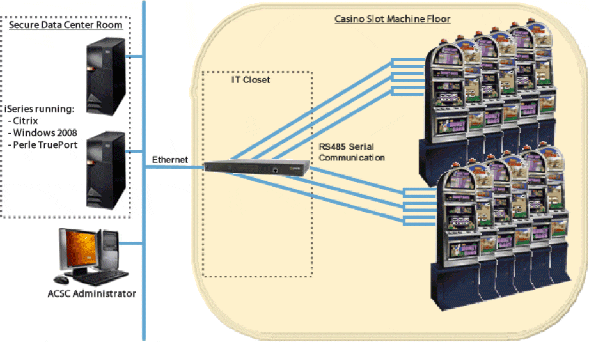 After extensive testing Bally implemented a new network architecture that features two Citrix servers communicating with Perle IOLAN SDS32C Terminal Servers via TruePort (fig 2). Perle TruePort is a COM port re-director driver utility that is installed on the application server. All COM port directed data sent by the application is re-directed by TruePort across the TCP/ IP network to the Perle Terminal Server. An RS485 Panel Splitter converts the RJ45 connecter to a Molex connector for slot machine connectivity.
By using the Perle IOLAN Terminal Servers, Bally achieved all their goals:
Bally was able to increase the data throughput thereby exceeding expectations
The IT architecture was simplified by substantially reducing the amount of hardware needed
The redundant iSeries Servers provided High Availability by having a back-up in case the primary server failed
IT equipment was removed from the slot floor and relocated a safer, and more secure, temperature and environmentally controlled data centre room away from the gaming floor
And for the customer, Bally was able to pass on a significant cost saving. Bally customers can rest assured knowing that the transition to the network architecture will be smooth and reliable with data integrity safeguarded at all times.
About Bally: www.sggaming.com
With a history dating back to 1932, Las Vegas-based Bally Technologies designs, manufactures, operates, and distributes advanced gaming devices, systems and technology solutions worldwide. Bally's product line includes reel-spinning slot machines, video slots, wide-area progressives, interactive and mobile applications, and Class II, lottery, and central-determination games and platforms. Bally also offers an array of casino management, slot accounting, bonusing, cashless and table management solutions.
1 Harris, Tom. "How Slot Machines Work." How Stuff Works. InfoSpace LLC, n.d. Web. 22 October 2014