Perle Systems Case Study
Perle IRG LTE Routers provide LTE coverage when WiFi is unavailable
When the power goes down, so does the WiFi. Cellular systems, however, keep working.
A contingency plan to recover IT services following an emergency or system disruption is a critical component of the network design process. IT systems are vulnerable to a variety of disruptions that range from mild short-term power outages to severe natural disasters that can devastate communications for several days. In some cases, critical resources, such as electric power or telecommunications, may be outside of an organization's ability to control uptime.
When critical data needs to flow over a network during a system disruption, having an established fallback network can provide the necessary redundancy to keep a business running for the duration of any type of mild or severe outage. A large construction and engineering firm needed to rethink their security contingency plan when hurricane storm damage took out their wireless video surveillance system.
The construction firm contracted the network engineers at Winning Strategies to design a stand-alone multi-power-source wireless surveillance system to withstand any future outages. John Gayeski, Director at Winning Strategies explains, "Installing a reliable security surveillance system is not as simple as buying a bunch of cameras and connecting them to WiFi. When the power goes down, so does the WiFi. Cellular systems, however, keep working when the power is out."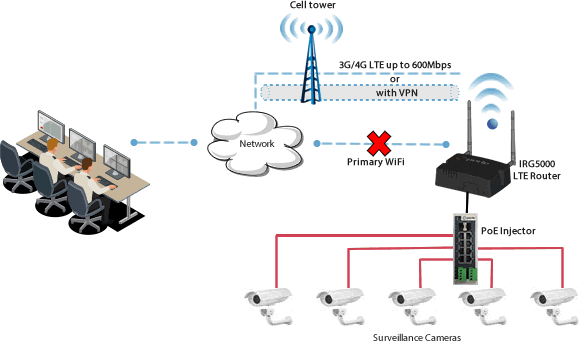 The location of the installed system is very large. Some areas primarily use WiFi while other areas are remote and need to rely solely on cellular network connectivity. To ensure captured security footage is reliably transmitted at all times, Winning Strategies sourced Perle IRG5000 LTE Routers.
Gayeski comments, "The Perle Routers fit the bill. Other manufacturers offered either WiFi or cellular routing, but not both, which was critical in this redundant solution design."
In most locations, the IRG5000 LTE Router would provide primary connectivity over WiFi with automatic failover to back-up LTE coverage during power outages. In the remote locations where WiFi is unavailable, the same IRG5000 LTE Router would provide LTE coverage as the primary connectivity method. Using the same product in both scenarios provided ideal flexibility.
The solution was rolled out using solar cabinet enclosures with back-up batteries. The IRG5000 Routers were perfect for this environment because they are designed to operate on limited power sources by consuming less than 1 Watt in idle mode. Also, standby mode can be used to protect power sources by dropping power consumption to a target of 53 mW. This can be triggered by timers, low voltage detection, or I/O.
With proper contingency planning, many vulnerabilities can be minimized or eliminated through technical, management, or operational solutions as part of an organization's risk management effort. However, it is virtually impossible to eliminate all risks. But, with multiple back-up power sources and multiple network connectivity failover paths, the construction firm can now rest assured that their surveillance system should withstand any future system disruptions.
About Winning Strategies: – http://wsits.com/
Founded in 2005 and headquartered in Newark, NJ, Winning Strategies ITS offers a preventive approach to services and support to minimize business disruptions. Our network engineers can function as your in-house technical team, managing your needs through preventive maintenance and upgrades, remote support, and backup of company data.