8/12/2020
Airport IoT: Improving service and security in a post-COVID world
Max Burkhalter
Commercial airlines have seen a drastic drop in demand and revenue as a result of the COVID-19 pandemic, leading many to question what the future of air travel will look like. Airports are essential transportation hubs for both foreign and domestic travelers, but standing lockdown orders and social distancing guidelines have stymied their ability to turn a profit. While some airports remain open for cargo operations, according to research from the International Finance Corporation, most have significantly curtailed their consumer-facing services out of pure necessity.
Even with the U.S. government's $58 billion assistance package - which included roughly $3 billion in grants for airport contractors - many airports are still struggling to stay afloat, Reuters reported. Given that the pandemic is still ongoing, how will airlines cope with the new normal and adapt to future challenges that threaten their operational and financial stability?
Recent trends in airport technology
Even before the global pandemic dominated headlines around the world, airports were already moving toward IoT technologies and connected environments. According to one study from Global Market Insights, the airport security market is expected to exceed $16 billion by 2024, largely due to the "rising penetration of smart technologies." These innovations include things like remote check-in systems, IoT sensors, electronic gates and RFID baggage tracing applications. The goal of these advanced technologies is to streamline the customer experience while simultaneously providing airport administrators with more data on traveler behaviors, preferences and common pain points.
Armed with real-time data, airport staff can more accurately adapt to seasonal foot traffic, on-premise purchases and the need to station security personnel at key checkpoints. As noted in the Global Market Insights study, the demand for advanced security systems is a driving force behind the aforementioned market growth, with biometric kiosks, x-ray scanners and thermal cameras topping the list. However, while these systems may help improve (and in some cases personalize) the customer experience, they likely won't have much of an impact on the current global health crisis.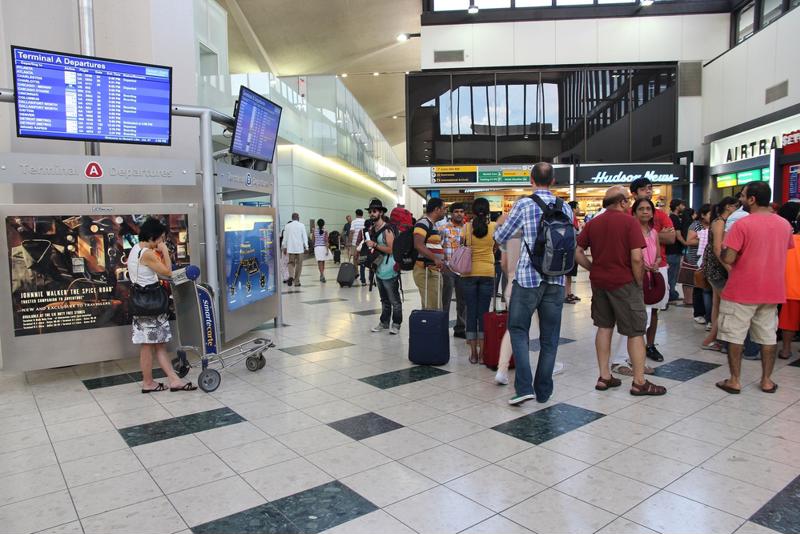 Upholding social distancing guidelines can be difficult in airports, as passengers must wait in long security queues before they can board their plane.
Leveraging IoT during COVID-19
One of the most relevant and timely innovations in airport technology involves contactless entryway checkpoints, which allow travelers to check in without having to speak with an airline representative face to face. Of course, offering this "touch-free experience" will require airport contractors to install a variety of IoT systems and devices on site, according to Connected Aviation Today, which may call for some upfront investment. Luckily, the main component of these contactless systems - biometrics - is already present in facilities across the world, which may reduce the barrier of entry for countless airports.
"When it comes to funding, technology investment needs to be considered by segment," said Antoine Rostworowski, deputy director general of programs and services at ACI World, in an interview with Connected Aviation Today. "If it is a technology that addresses a health measure, it should be funded with guidance from the government."
This guidance is particularly crucial when it comes to COVID testing, as most airports are not equipped to offer these medical services. Instead, many airport contractors have deferred to the recommendations of the Centers for Disease Control and Prevention and the Transportation Security Administration, which emphasize the importance of personal protective equipment, social distancing and near-constant cleaning and disinfecting activities.
Environmental sensing technology is yet another possible use for IoT during the COVID-19 pandemic, especially when paired with smart building controls and ventilation systems. According to the World Health Organization, ventilation and air conditioning in public spaces can either encourage or limit the spread of the coronavirus indoors. Using advanced monitoring systems, airport staff can quickly determine if there are too many people crammed into a small area. These IoT systems can also detect air flow, CO2 levels and temperature, Tech Republic noted, which may help airports maintain a cleaner and more comfortable environment for passengers.
Monitoring technologies are already at use in airports across the world, but their application is often centered on the customer experience rather than personal protection. For example, Dallas Fort Worth International Airport rolled out a new security queue system in 2018, CBS reported, which is able to automatically detect the number of people waiting in line and generate an accurate wait time estimate. This type of real-time data is not only useful for airport staff, it can also help reduce traveler anxiety about security checkpoints and missed flights. In the present context, passenger monitoring solutions may be the key to reducing infection rates at airports and providing travelers with peace of mind.
Implementing these advanced IoT systems will require networking tools built for big data environments. Perle offers industrial-grade connectivity equipment that is secure, reliable and suited to the transmission of serial data over Ethernet. Our robust device servers and Ethernet extenders are designed to support machine-to-machine communication, enabling airports to install and manage large fleets of IoT sensors.
To learn more, read some of our customers' success stories.