Thursday, April 27, 2017
Connected trains gain steam in the U.S.
Max Burkhalder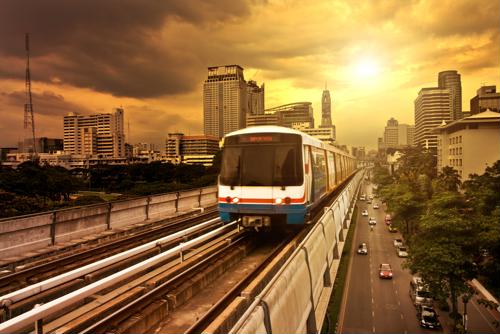 The locomotive helped make America the country it is today, facilitating key shifts such as the industrial revolution and westward expansion. However, in the decades since workers laid the first tracks, the U.S. has fallen behind the rest of the world in this area. Western Europe and East Asia boast the most advanced trains, transporting billions of passengers via high-speed models that can reach speeds of more than 400 miles per hour, CNN reported. While the U.S. plays host to the most expansive rail system in the world, it relies on antiquated cars that feature few amenities and move sluggishly compared to their overseas counterparts, according to The Economist. Ridership suffers as a result, with potential customers skipping public transport for the freedom of America's other engineering marvel: the interstate highway system. Even cities with fairly updated and well-traveled train systems suffer. For example, Municipal Railway riders in San Francisco have long dealt with networking problems, even as they traverse terrain home to some of the most successful and advanced technology firms in the world, PC World reported.
Innovators in the transportation space hope to change this reality by deploying cutting-edge trains capable of catalyzing a railway renaissance. A number of companies are pioneering this push, developing cars equipped with connective features that bolster safety and improve passenger comfort, while also facilitating cost reductions.
The American railway industry is making a comeback with advanced technology.
Smart trains on the rise
This month, Siemens announced the establishment of an internal division solely devoted to advanced train technology, Railway Age reported. The work group, called Digital Rail Services, aims to produce hardware and software that will support automated maintenance workflows that improve efficiency and cut costs. Advanced sensor technology and backend systems are at the root of this division, which is prepared to launch pilot projects in Atlanta and Charlotte, North Carolina.
The technology giant plans to work with officials from the Atlanta Office of Transportation to collect data from the city's growing streetcar system and leverage this information to reduce delays and develop preventive maintenance workflows. The project in Charlotte involves the development of a web-enabled real-time diagnostic system - another tool designed to reduce downtime and improve service.
"Today, rail vehicles send between one and four billion data points per year and rail infrastructure can send billions of messages just inside a specific system," Simon Davidoff, director for U.S. branch of Siemens Mobility Digital Services, told Railway Age. "With our Digital Services business, we're taking not only experience from our global rail footprint but also our extensive company-wide digital expertise to turn billions of data points into action, including the ability to detect malfunctions well before they can cause problems and information that helps improve arrival times and punctuality for riders."
Of course, Siemens is not alone in its pursuit of next-generation rail technology. Cisco also boasts an extensive advanced transportation portfolio which includes the Connected Rail solution, a data-driven system that facilitates data-gathering and advanced networking capabilities. While exciting, these offerings are still in their infancy, as engineers search for more effective ways to integrate them into existing systems and business leaders lobby politicians for funding to build entirely new trains with built-in big data capabilities. That said, some progress has been made in this area. For instance, four years ago officials in Kansas City, Missouri, dove headlong into an extensive modernization effort that included the construction of a connected streetcar system, Curbed reported. The $100 million line now runs through the center of downtown, ferrying passengers amongst automated streetlights and advanced ticketing kiosks.
"Smart train innovators in the U.S. must travel much track to catch up with those in Europe and Asia."
Still, smart train innovators in the U.S. must travel much track to catch up with those in Europe and Asia.
Automated safety systems take shape
One area where American transportation agencies and technology firms are making serious headway is automated train safety systems. After decades of little progress, operators are starting to outfit their trains with cutting-edge connected solutions designed to cut down on accidents, according to Wired. Metrolink, based in Southern California, was the first to make the move back in 2014, adopting a safety control system that monitors train movements and warns conductors of dangers down the track. In the years since, larger transportation companies have invested in the technology, including Union Pacific which has allocated more than $2.3 billion toward such solutions.
There is of course more room to grow in this regard. Some argue that transportation companies should switch to driverless trains to remove conductor error from the equation, Motherboard reported.
In all, railway stakeholders are expected to spend almost $30 billion on advanced train technology over the next 15 years, according to projections from Cisco. This level of investment indicates that train travel could make a comeback in the U.S. As this movement develops, Perle will be there to support those driving it, providing reliable connected technology fit for the future of rail travel. Perle device servers, terminal servers and serial cards help transportation companies like the French National Railway Corporation power their lines. Connect with us today to learn more about our work in the transportation sector.