12/16/2021
How smart technology is building better schools
Max Burkhalter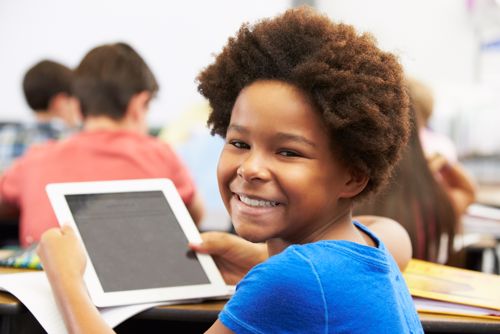 The education sector is a rapidly evolving, dynamic field, creating the foundation for our continued technological and societal growth. Digital tools have come a long way in modernizing school systems around the globe by optimizing complex processes and creating a more inclusive space for students and staff. But the application of these technologies is just beginning.
A report from Verified Market Research forecasts a $26.8 billion valuation for the Internet of Things (IoT) education market by 2028. IoT technologies have shown incredible potential to enhance educational environments with increased connectivity and greater access to resources. As they advance, the potential for their application is limitless.
What is IoT?
IoT, or the Internet of Things, is a complex network of devices connected to the internet that create, collect, transmit and receive all kinds of data. This includes everything from smart building technology to remote learning tools. Once implemented, these devices connect with one another via the internet and can be monitored and controlled by a central computer, tablet, or even smartphone. As IoT technologies advance, educators adopt new tools to help access key information, keep track of resources and improve campus safety.
IoT in education
According to eMarketer, an estimated 83.2% of children between the ages of 12 and 17 own or have access to a smartphone. As new generations become increasingly digitally adept, it's no wonder teachers are turning to these tools to connect with their students and enhance educational practices.
IoT devices empower students by giving them reliable access to learning materials, communication channels and interactive lessons. Teachers can utilize these devices to measure learning progress in real-time and adjust course schedules accordingly. School systems can also benefit from IoT by upgrading mechanical equipment to connected technology that increases energy and organizational efficiency.
Educational applications for IoT
Throughout the course of human history, technology has helped elevate the dynamics and broaden the scope of learning while increasing accessibility to education. In an era of rapid technological development, there are boundless opportunities for IoT applications in school settings and still more that we haven't yet discovered. Here are just a few of the ways IoT technologies are shaping the future of education.
Communication:
One of the clearest benefits of IoT connectivity is that it allows for improved communication. Whether exchanging project information, annotating learning materials or analyzing student performance, students and staff can use IoT devices to communicate directly with classmates or colleagues, be they local or remote.
Organization:
The days of misplacing physical assignments or learning resources are over. IoT solutions provide easy access to and organization of educational materials, virtual lessons, digital projects and student data through cloud sharing abilities centralized in easy-to-use applications.
Safety:
Many schools and institutions lack the infrastructure to detect and take action on criminal activity within their buildings. IoT innovations such as smart door locks, advanced monitoring systems and intelligent emergency alerts all work together to ensure the safety and security of students and staff. Building access and attendance can also be tracked and monitored using RFID embedded ID cards.
Special Education:
Facilitating classroom learning can be a challenge with any student, and traditional educational environments often fall short of assisting special education students. Incorporating IoT devices into the curriculum can help accommodate the needs of the disabled and those with sensory issues, improving educational outcomes for all students.
To learn more about how Perle can improve your school's infrastructure, read our customer success stories.